Luxury TIMELINE 10 DEFINING MOMENTS
759 AD HOT TUB
Japanese Culture
The Japanese are credited with the first personal soaking tubs—wooden ofuros that were used exclusively for meditating and soaking. Folkore suggests that they believed elders infused their wisdom into the waters to the benefit of younger generations.27 Today luxury homes boast the full complement of international spa amenities, including steams and saunas; hammams and wet rooms; yoga and massage rooms; Zen gardens, and the enduring in-home beauty salon.
1902 AIR CONDITIONING
Willis Carrier
Willis Carrier, a 25-year-old engineer, designs a system to send air through water-cooled coils to control humidity in the printing plant where he worked. The technology was adapted for residential use, but as late as 1965 only 10 percent of U.S. homes enjoyed the heat relief. Homes today are not only cool but also smart, with technology continuing to facilitate and in some cases the need to predict comfortable in-room temperatures.
1926 ELECTRIC GARAGE DOORS  
Wayne-Dalton
Using technology to remotely detonate bombs in WWII, the radio frequency strong enough to open a garage door was also powerful enough to open those of neighbors. The result was a comic synchronized dance of doors opening and closing on many a subur- ban cul-de-sac in earlier days. Garages have since morphed into elaborate auto museums with themed décor and gallery lighting, enter- tainment niches, bays with lifts for mechanic tinkering, and yet still, an electric door.
1937 FROZEN FOODS
Marjorie Merriweather
Marjorie Merriweather Post, owner of General Foods Inc. and wife of Russian ambassador Joseph E. Davies, ships 25 refrigerators to Moscow. The feisty entrepreneur, who purchased Birdseye and its freezing technology, lavishly entertains international guests with out-of-season produce, taking home entertaining to the next level. "Frozen" now gets a chilly reception, having been toppled by fresh home-grown organic produce as farm-to- table dining takes over luxury kitchens.
1952 RESIDENTIAL SWIMMING POOLS
Esther Williams
This now-ubiquitous luxury mainstay first gains widespread appeal as a status symbol. Esther Williams, the wildly popular aquatic movie star, is credited with launching the trend following the release of Million Dollar Mermaid. The newest iteration of this amenity: snorkel pools, essentially giant salt-water in-ground aquariums and living reefs to channel your inner Jacques Cousteau at home.
1963 PRIVATE JETS 
Bill LearBill Lear's signature private plane takes off from Wichita, Kansas. The Gulfstream era, featuring large-cabin private jets, begins in 1966. Reportedly the world's most expensive jet today, at a cost of more that $500 million, is an Airbus A380 belonging to Prince Al-Waleed bin Talal of Saudi Arabia and includes gold plating, a concert hall, a Turkish bath, prayer room, and a garage for the Rolls Royce. Private jets made getting to remote destinations even easier, opening up a new world of second-home options to the world's wealthiest individuals
1973 CELL PHONES
Martin CooperMaxwell Smart's shoe phone hit the television airwaves in 1965. Eight years later, Martin Cooper, an engineer at Motorola, completes history's first cell call. The phone weighed 2.5 pounds and was nine inches in length. Battery life was 20 minutes. By the 1990s, cell phones are less often used as phones, having spawned a global selfie army of the nimble of thumb.
1985 PRIVATE HELIPADS
Ogden PhillipsThe first time the landing apparatus appeared on a private yacht was 1985: Ogden Phipps' Buckpasser. The utilitarian tarmac with a giant H has since cropped up on high-rise luxury buildings and estates across the globe, recently evolving into an elegant outdoor gallery space to fully showcase these sleek machines first conceived by Leonardo da Vinci.
2014 ROBOTIC BUTLER
Botler
In August, Botler reports to work in a California hotel. The robotic butler whizzes around hallways, delivering packages and room service to guests. Botler is more engaging than, say, the robotic pool bottom skimmers or morphed home carpet sweeper. Botler does a dance when he gets a top star rating. He can't make beds or answer doors (Botler has no hands) but we seem well on our way to reprising Rosie, the Jetsons' maid from '60s television.
2017 FLYING CAR
AeroMobileThis is the year Slovakian-based AeroMobile plans to roll out its gas-powered, 20-foot-long flying car with retractable wings (comes in handy when street parking). The car is shown on the company's website pulling out of a hangar, driving on a street with other cars, and taking off from a grass runway. It can hit 99 mph on the road and fly over 400 miles on a full tank. The downside: One less excuse for not getting the kids to school on time.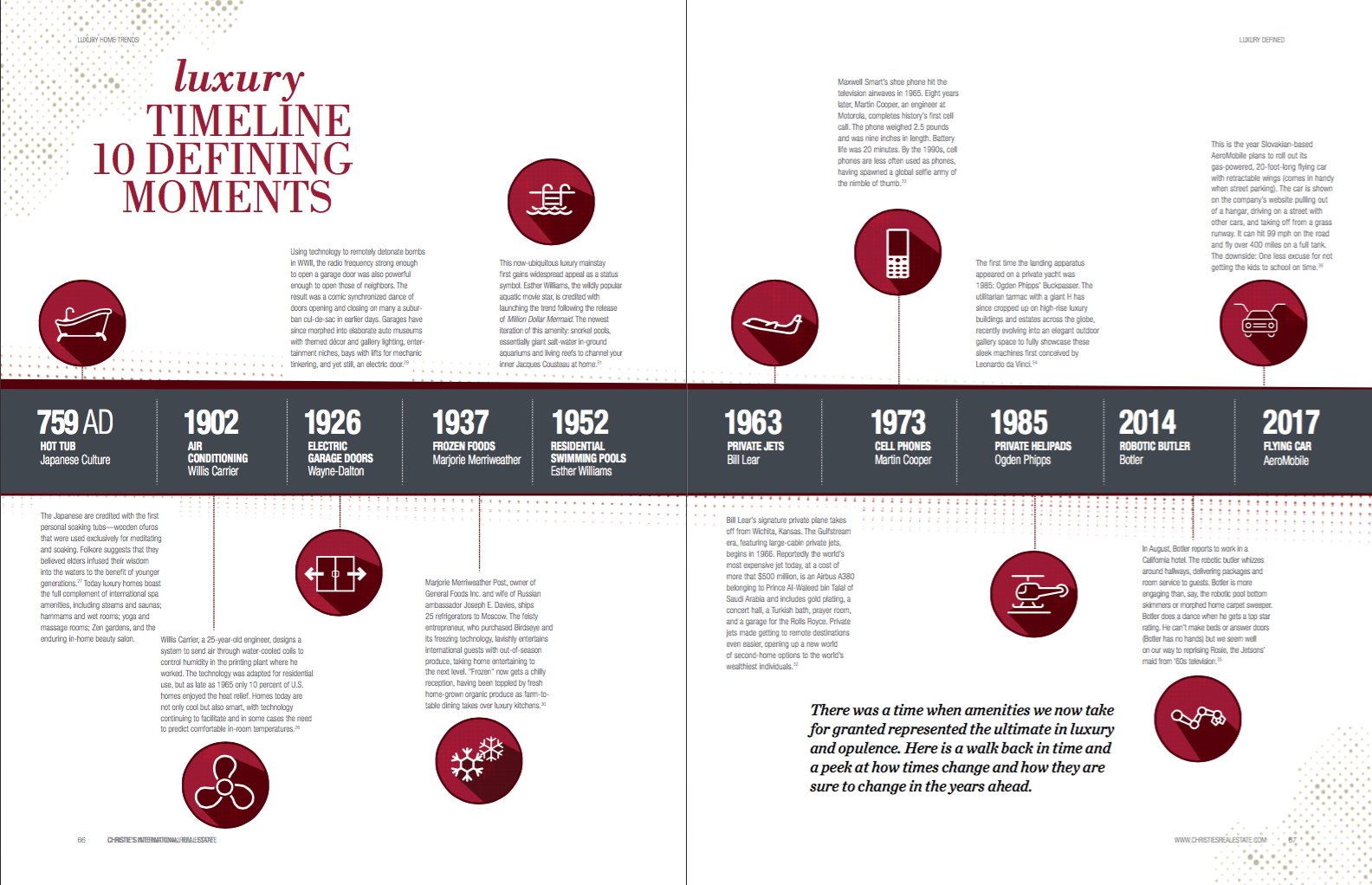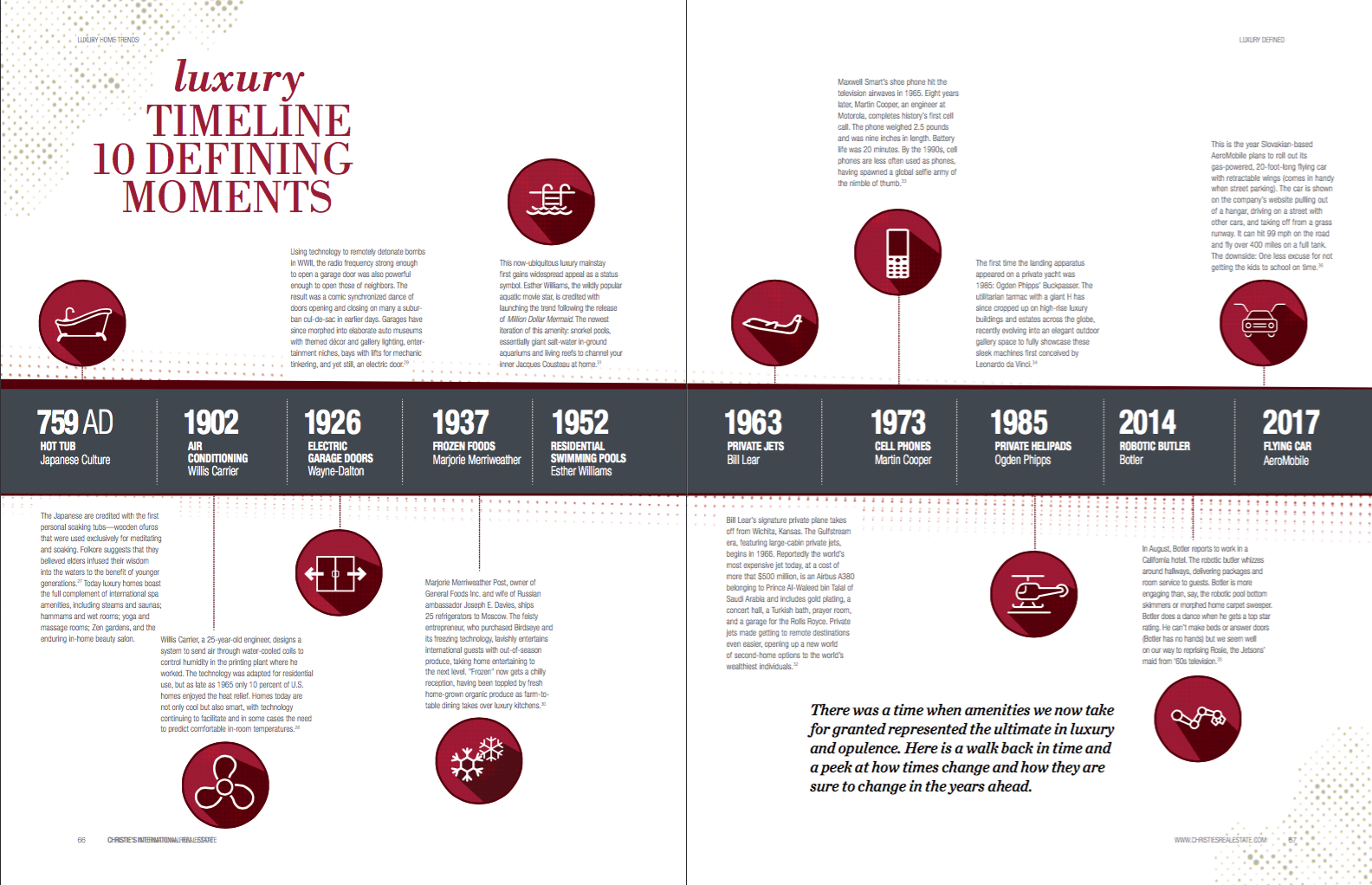 There was a time when amenities we now take for granted represented the ultimate in luxury and opulence. Here is a walk back in time and a peek at how times change and how they are sure to change in the years ahead.
SaveSave
SaveSave