'Charter yachts on a transit from South Florida to the Caribbean's Leewards often pass the Dominican Republic without so much as a second glance as they head for the more obvious delights of the BVIs and Antigua. And that's a shame, because the Dominican Republic is a bit of a hidden jewel.'
'Speaking personally it's refreshing to find a corner of the Caribbean that isn't like a bus station!' says Athena's Captain Cumming.  Read the complete article here
The Marina Casa de Campo
Mediterranean elegance with Caribbean flavor
Where the Chavón River meets the Caribbean Sea, at the edge of Casa de Campo Resort, the most complete and luxurious resort of the Caribbean, there's a very chic yachting community.
The Marina Casa de Campo has a total of 370 slips, capable of receiving ships from 30 to 250 feet in length which positions it as a large capacity marina that combines a lifestyle of elegance, prestige, luxury, safety and warmth. The Marina also has slips for guest sailboats.
Find you property close to Marina Casa de Campo HERE! 
Marina CC and Puntacana Resorts
This is the perfect place to begin a day of adventure, sailing in your yacht, touring the beautiful shores of the Dominican Republic, fishing and exploring the treasures of our island to return to our safe harbor, your home.
Marina CC offers over 130 slips, accommodating up to 150 ft. yachts, with complete services for captains and crew. It is surrounded by an enchanting village with gourmet restaurants and elegant boutiques. Its coastlines and proximity are considered among the best spots in the world for fishing and deep-water diving.
The Marina has been the scene of world-famous fishing tournaments and has become a popular destination among those who enjoy fishing, and breaking records.
Find you property close to Marina CC y Punta Cana HERE!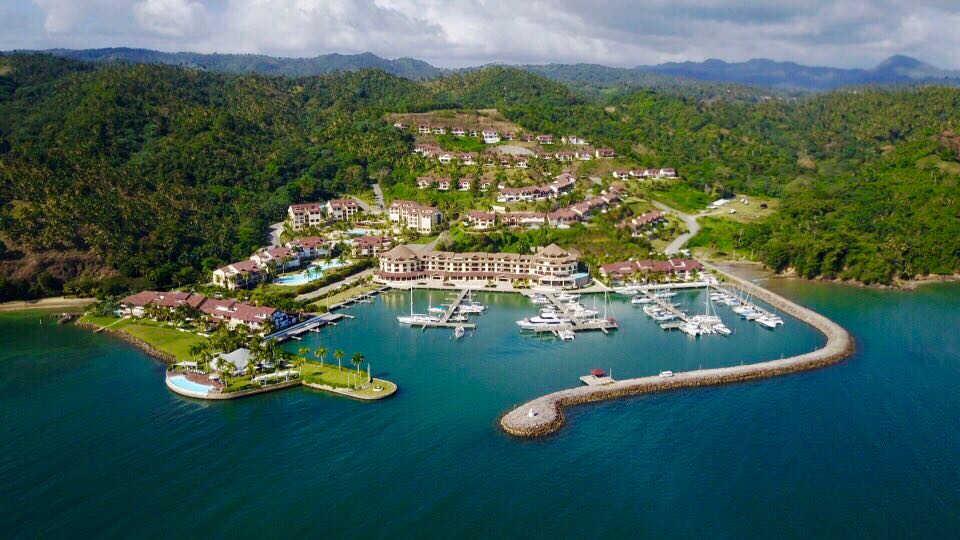 Marina Puerto Bahia
Marina Puerto Bahia
NESTLED BETWEEN THE MOUNTAINS AND THE SEA
Imagine a place in the Caribbean surrounded by a contrast between the mountains, the sea, and a beautiful marina in Dominican Republic, bringing to life the perfect harmony between natural beauty and human creativity. A place where summer lasts all year long and every day begins with a new experience; exploring incredible destinations, enjoying a safe and familiar environment. Well, stop imagining, that's Puerto Bahia. Puerto Bahia is a full service marina in the north end of Samana Bay, in Dominican Republic. Samana is widely known as the top cruising ground of the Dominican Republic. Numerous secluded safe harbors, intimate caves, bountiful fishing grounds, great stretches of sandy beaches, and other alluring destinations invite exploration and offer memorable days of pure pleasure.
Find you property close to Marina Puerto Bahia HERE! 
Ocean World Marina
The Ocean World marina complex is the Caribbean's new ultimate destination. Featuring first class gaming casino and adjacent marine adventure park. Ocean World has become a destination for yacht charter worldwide.
The spectacular four-story building of Ocean World Marina is an aquatic themed structure. Each floor offers visitors different experiences from five-star dining, live music, gaming, spectacular ocean views, cocktail lounges and featuring the tropical and sensational "Bravissimo Show", twenty-six dancers take guests on an enchanted journey throughout the Caribbean by presenting their interpretive dance collection from the region.
Find you property close to Marina Ocean World HERE! 
SaveSave
SaveSaveSaveSave