With 2014 coming to a close and what looks set to be another buoyant year ahead for luxury property, it seems appropriate to feature a residential development project with both a deep sense of history and an exciting future on this issue's cover. Ten Trinity Square has several visionary partnerships behind it – developers, designers, and global brands, including our own iconic sister brand Château Latour, all working together to put this London landmark at the heart of a new residential district.
To view Magazine Online click here: Issue Four Christies 2014
or click below the cover of the magazine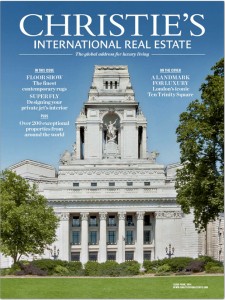 Also looking to the past to inspire innovation are the designers creating finest-quality contemporary rugs, melding traditional techniques with cutting-edge technology. You'll find a very different aesthetic meeting a highly technical mandate in our special report on interior design for jets.
This issue also features an intimate glimpse into the art world with Christie's Education. And as always, our up-front Digest section presents a curated selection of the latest in luxury travel, design, and style, along with art and auction news, as well as a special seasonal gift guide. All this plus more than 200 property listings for sale around the world from our global affiliates, with even more online at www.christiesrealestate.com.
View the most luxurious properties in the network in our special edition magazine, The Luxury Edition.