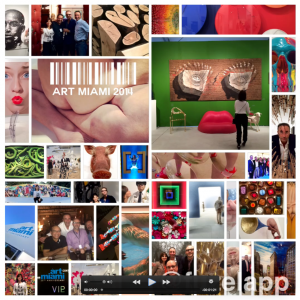 NEW YORK, NY – Christie's International Real Estate, the world's leading luxury real estate network, is proud to once again serve as the "Official Luxury Real Estate Partner" of Art Miami, one of the most respected international contemporary and modern art fairs for acquiring investment quality works of art from the 20th and 21st centuries.
Commemorating its 25th anniversary, the globally recognized event will take place December 2nd through 7th during what is known as Miami Art Week in South Florida, when thousands of collectors, curators and museum professionals descend on the area to visit a host of contemporary art fairs.
In its return for the third consecutive year as a marquee sponsor of Art Miami, Christie's International Real Estate and participating members of its international affiliate network will continue to further the natural symmetry between contemporary art and luxury residential real estate. The connection emphasizes the unique, lifestyle-centric qualities that link an investment in a multi-million-dollar trophy property to the purchase of a world-class work of art.
"Christie's International Real Estate first and foremost congratulates Art Miami on the commemoration of its 25th anniversary, applauding its longstanding history and widespread reputation as a contemporary art market lynchpin," said Rick Moeser, Senior Vice President of Christie's International Real Estate. "As the only real estate network of its kind to be owned by a fine art auction house, we are thrilled to be returning to Art Miami as a top sponsor – a relationship which puts us at the epicenter of one of the most iconic contemporary and modern art fairs in the United States."
According to Christie's International Real Estate research — specifically as part of the network's annual whitepaper market report – the company has noted that trends in high-end real estate congruently mirror the sales activity of luxury goods. The top end of the fine art market, for example, has experienced a resurgence in recent years, quite similarly to the growth in purchases of luxury real estate.
The partnership between Art Miami and Christie's International Real Estate extends to Art Miami's sister fair, CONTEXT Art Miami, which focuses on emerging and mid-career cutting-edge contemporary art. Together, with their renowned gallery-like exhibition spaces, the adjoining fairs will span a combined 250,000 square feet and feature works of art from over 200 international galleries from sixteen countries.
"We are thankful to have Christie's International Real Estate's continued support for our 25th edition," said Nick Korniloff, Director and Partner of Art Miami, LLC. "The network's commitment to Art Miami has provided all of our participating galleries and guests with a better fair experience. Together, we look forward to another successful fair while putting a spotlight on the best the contemporary art market and luxury real estate market have to offer from around the globe."
Throughout the duration of the fair, Christie's International Real Estate will host an interactive booth at the entrance of Art Miami, exhibiting luxury residential real estate offerings from around the globe. The hands-on display will afford Art Miami visitors an up-close look at over 14,000 exquisite properties presented by the network's global affiliates. The event will also feature the co-sponsorship and onsite participation of 13 Christie's International Real Estate affiliates (bulleted below) and an invitation-only, VIP champagne reception for top Christie's International Real Estate clientele. Co-sponsors of the six-day event include:
• Brown Harris Stevens in New York City, NY & Palm Beach, FL
• Campbell & Prebish in Naples, FL
• CONLON: A Real Estate Company in Chicago, IL
• Dutch Docklands Maldives in Malé, Maldives
• EWM Realty International in Miami & Ft. Lauderdale, FL
• Hilton & Hyland Real Estate in Beverly Hills, CA
• Michael Saunders & Company in Sarasota, FL
• One Caribbean Estates in Barbados
• Pacific Union International in San Francisco, CA
• Premier Estate Properties in Boca Raton & Ft. Lauderdale, FL
• Regency Ltd. in Turks and Caicos Islands
• ReMind Group in Buenos Aires, Argentina
• Trillion Realty Group in San Juan, Puerto Rico
The 2013 edition of Art Miami reported 13,600 collectors, curators, artists, connoisseurs and designers during its opening night to benefit the Perez Art Museum Miami and hosted 72,500 attendees over a six-day period. Boasting a rich history as the longest-running contemporary art fair in Miami, the fair will once again provide an intimate look at some of the most important works at the forefront of the international contemporary art movement.
# # #
About Christie's International Real Estate
Christie's International Real Estate is an invitation-only Affiliate network composed of the world's most proven and qualified real estate specialists in the luxury residential sector. The company has offices in London, New York, Hong Kong, Beverly Hills, Chicago, and Palm Beach, and more than 135 global Affiliates with 25,000 real estate professionals in 45 countries. For additional information about Christie's International Real Estate, please visit www.christiesrealestate.com.