By James V. Andrews, MAI, CRE, FRICS, ASA/BV for IRR Viewpoint 
Overview
While hotel performance appears to be rebounding slightly this year following a modest decline in 2016, growth in arrivals to the region appear to be growing at a slower rate than previously. Fears regarding the Zika virus are finally subsiding since there have been very few infections this year to date; however, the growing inventory of hotel rooms in the region may be a future concern if supply growth outpaces demand.
Tourism Arrivals Growth May Be Slowing
Data from the Caribbean Tourism Organization suggests that growth in tourist arrivals is slowing or negative in many of the reporting destinations. Of the top twelve reporting countries, the average rate of growth is flat (-0.62%) for the year-to-date 2017.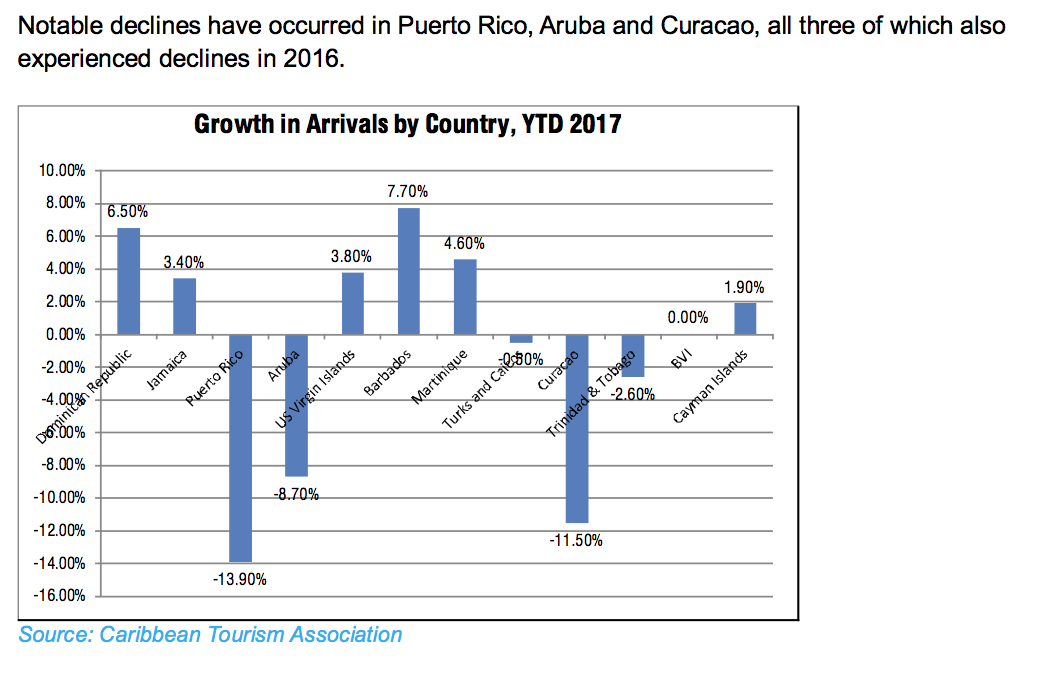 The countries reporting the highest growth for 2017 are Barbados (7.7%) and the Dominican Republic (6.5%). Barbados attributes the increase in airlift by Jetblue to its growth as well as new additions to the local hotel inventory such as the Sandals resort which opened in 2015. The Dominican Republic also saw significant growth over the last three years.
Note that neither Cuba, the Bahamas, nor St. Maarten have reported arrival statistics so far for 2017. Cuba hosted over 4.2 million arrivals in 2016 and is reportedly aiming for 4.7 million in 2017. Although American visitors to Cuba increased dramatically in 2016 following on relaxation of the travel rules by the Obama administration, they were still a small portion of the overall tourists traveling to that country; with Canada and and Europe being the largest source markets. It is likely that American tourism in Cuba will decline now that the Trump administration has reinstituted portions of the travel ban, specifically individual travel for "people to people exchanges". Also not allowed for Americans is business dealings with any companies affiliated with the Cuban military, which owns many of the hotels in Havana in some way.
Hotel Performance Continue Declines from Peak Levels
Indications from data supplied by STR, Inc. are that the three major metrics (Average Daily Rate, Occupancy and RevPar) are generally flat for 2017 year-to-date; following slight declines in 2016.
For the year-to-date June, occupancy in the region is up .5%. For same period, the average daily rate increased .6% for the Caribbean. According to the data, however, RevPar is down .4% for the year to date.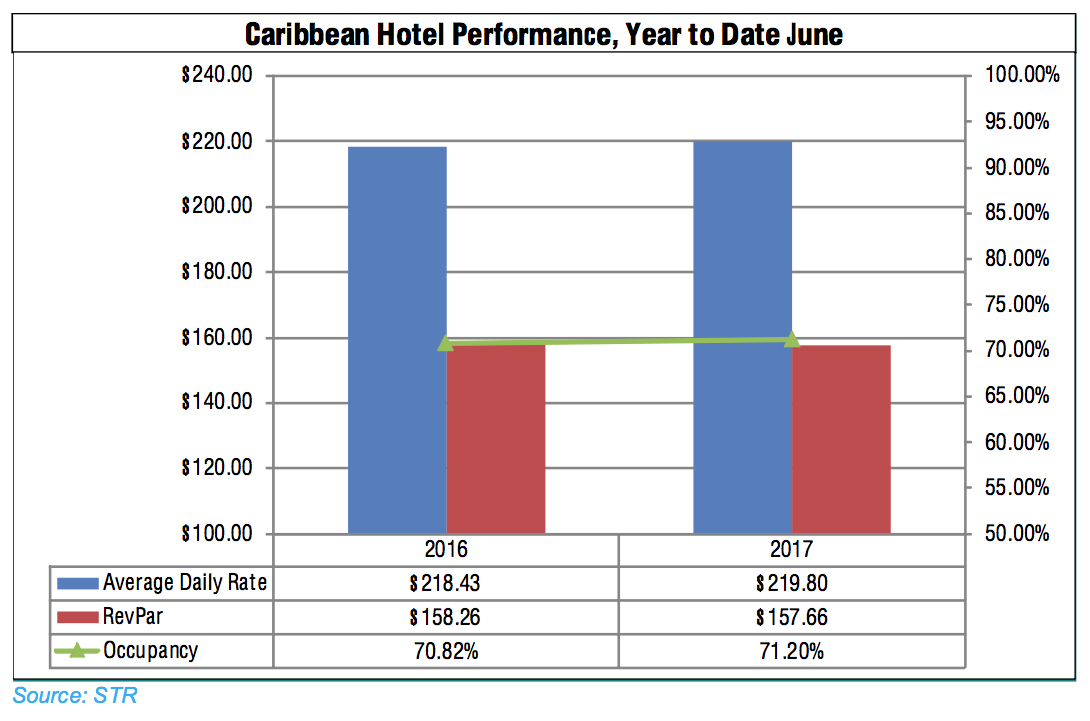 For the year 2016, occupancy in the region was down 2.8% to 66.8%. In addition, the average daily rate in the Caribbean decreased 8.9% to $198.98. As such, RevPar in the region was naturally down 10.8% for the year 2017 to $136.12.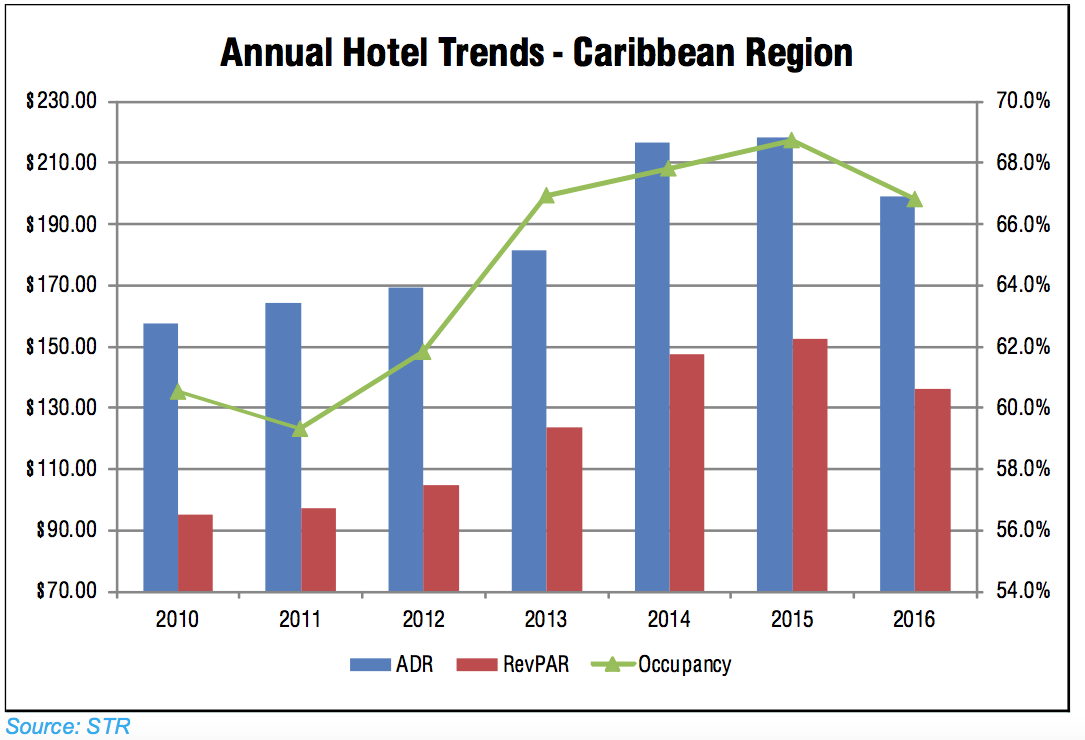 Fortunately the Zika virus is considered to be less of a threat given very few infections in the Caribbean during 2017 and hotel performance is beginning to rebound following declines in 2016. Increasing inventory is also considered a possible reason for the lack of growth in performance of existing hotels. As of June 2017, the total number of rooms in inventory in the Caribbean grew by 3.6% to 244,503 in 1,936 projects over the same period in the prior year.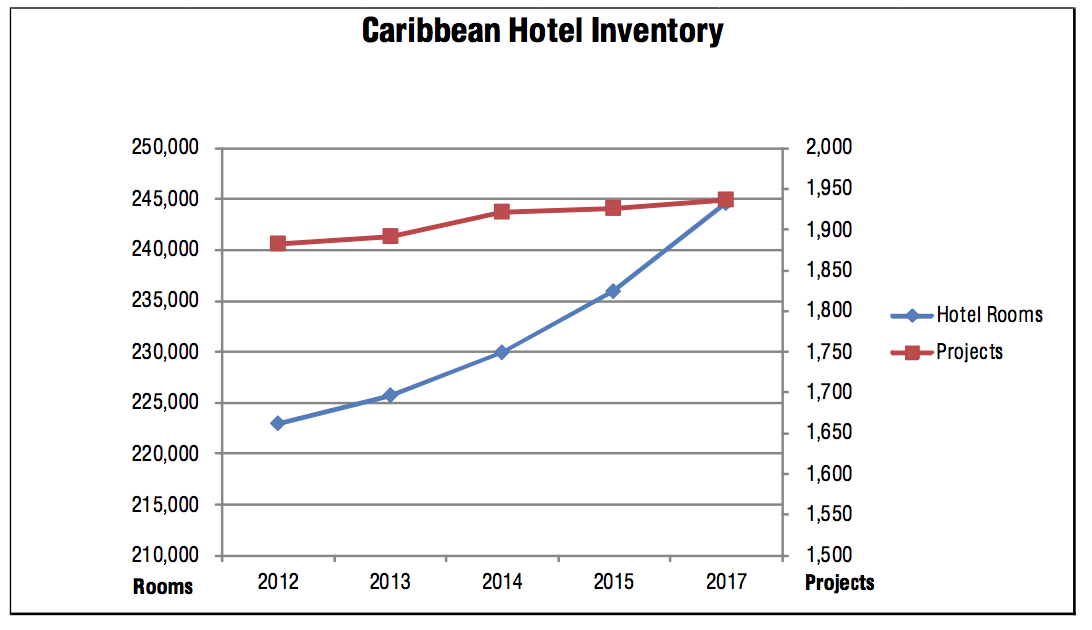 For the twelve months through June, 2017, St. Lucia is reporting the highest ADR for the reporting countries in the region at $381.66, (down 12%) followed by the Cayman Islands ($362.46, up 1.86%) and the USVI ($348.92, up 5.25%). Note that this data excludes one reporting country; Turks and Caicos; with reported ADRs above $800; however this data is not a good indicator due to the fact that very few properties in TCI report performance to STR. Also notable is that the highest growth in ADR was reported by Aruba, at over 8% above the same period last year.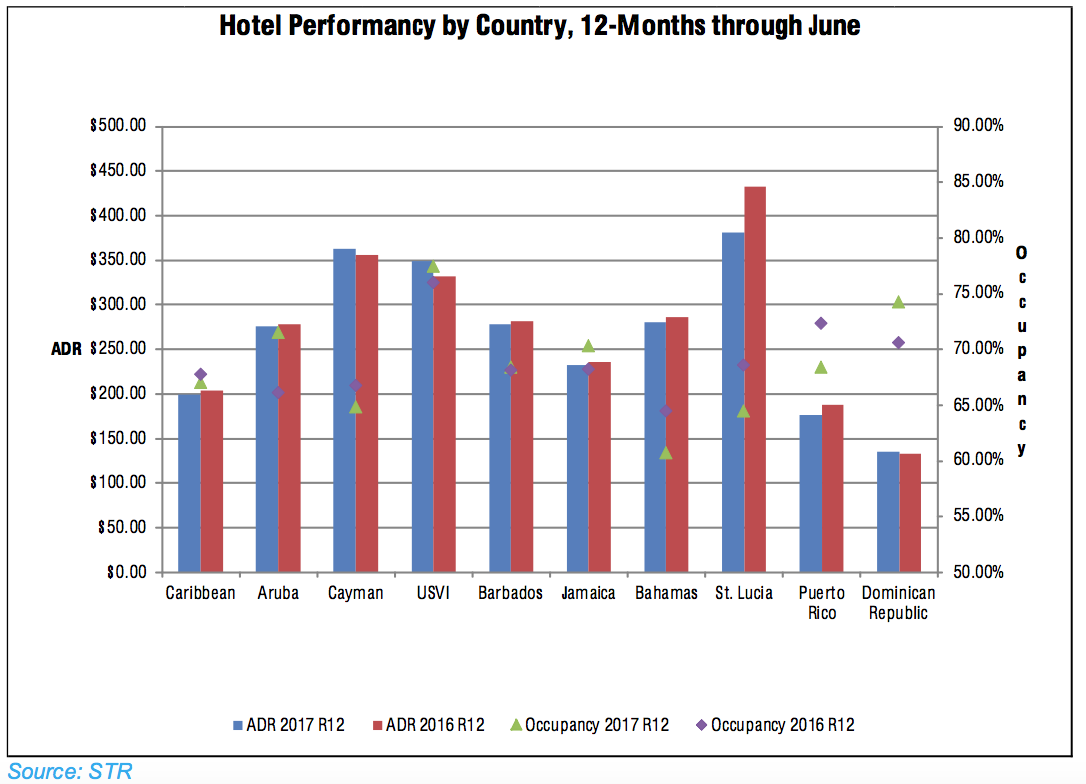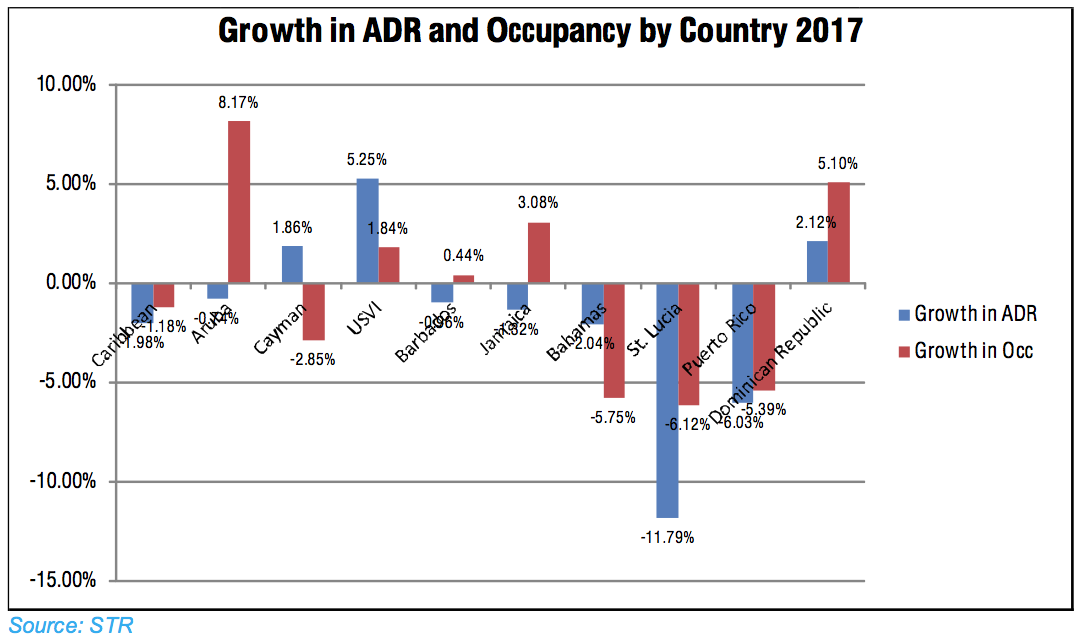 Pipeline Continues to Increase
As of June, 2017, STR reported 70 projects "Under Contract" in the Caribbean (excluding Mexico); totaling 16,794 rooms. This represents a 6.9% increase in rooms "Under Contract" compared with December, 2016; and a 3.03% increase in rooms "In Construction". The projects "Under Contract" include those in the "In Construction", "Final Planning" and "Planning" stages, but do not include projects in the "Unconfirmed" stage.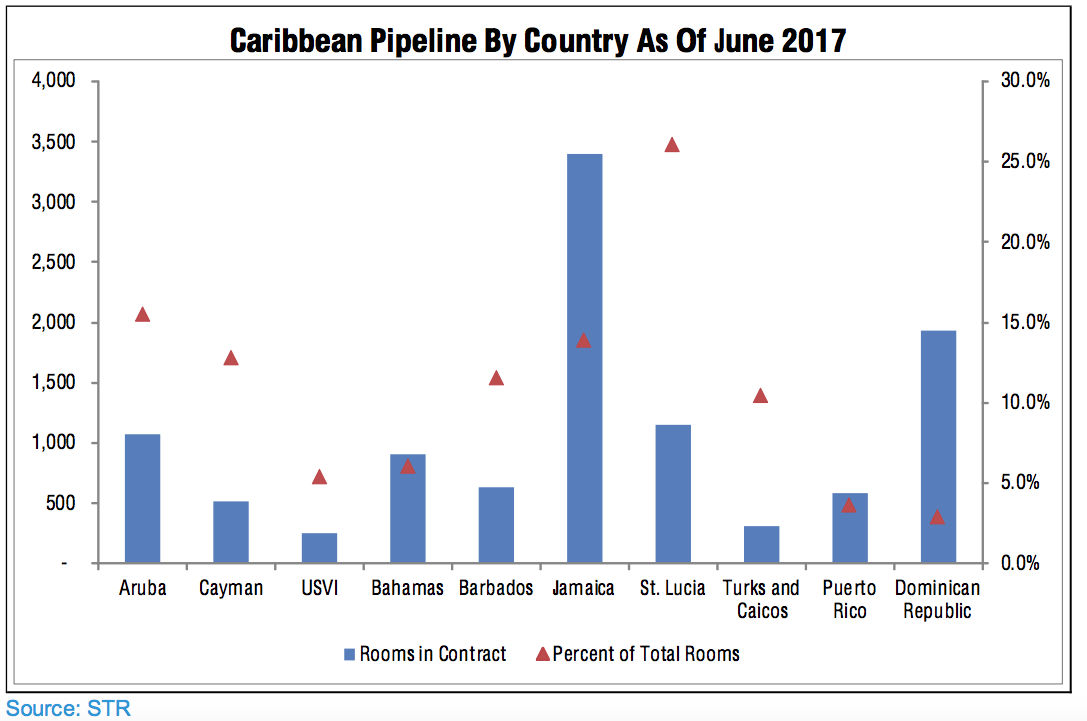 Jamaica still leads the Caribbean in terms of the destination with the most rooms "In Contract" (3,395) due to the proposed 2,000-room Celebration Jamaica; which is in the Final Planning stage. Cuba is a close second; however, with 3,144 rooms under contract. The Dominican Republic has 1,929 rooms under contract and St. Lucia has 1,148 rooms in this category. The largest projects in the Planning, Final Planning, or In Construction Stage are shown following.

There have also been a number of projects preliminarily announced recently for the markets of Antigua and St. Lucia; both which are bolstered by Citizenship by Investment Programs (CIP). Generally, the entire region appears to be poised for significant growth in the hotel sector based on multiple announcements by developers. Some of these announcements are highlighted in the following section.
Antigua
Antigua is seeing significant growth in arrivals as well as announcements of new projects; some of which are financed by the Citizenship by Investment Program. These projects include the under-construction Resort at Hodges Bay (79-suites), the planned Coconut Beach Resort, an Autograph Collection by Marriott; the Callaloo Cay (a Waldorf-Astoria resort) and a Best Western. There are also several low-density, resort residential (villa) developments in the works, where real estate will be sold through the CIP program.
St. Lucia
Dubai-based developer Range Developments is to open a 180-room Ritz Carlton managed resort on the island in 2021. Range Developments is also developing the Park Hyatt in St. Kitts and a Kempinski-branded resort in Dominica.
Construction recently started on the proposed, 120-room Fairmont St. Lucia at Sunset Bay. This project will be in the Choiseul area on the southwestern coast, and is being developed by GP Group JSC. Sandals Resorts International has also announced they will build another resort in St. Lucia, and that company is generally poised for rapid growth of their brands throughout the Caribbean region.
Barbados
Sandals Resorts International (SRI) has announced they will open a new Beaches-branded (family) resort in Barbados at the site of the former Almond Beach Resort in St. Peter, with construction to begin in September, 2018. There is already a Sandals resort on the south coast of Barbados which opened in 2015, and they are close to opening the 220-room, Sandals Royal Barbados, which is an all-suite resort adjacent to their existing hotel.
Plans for a Hyatt-Centric resort on the beachfront in Bridgetown have also been announced. The project is to contain 238 rooms and 28 suites, some of which will be sold as condominium units.
Bahamas
Paul Wynn of the Wynn Group announced plans to build a Kimpton branded boutique hotel on West Bay Street in Nassau. The project is to feature 90 hotel rooms and 64 residences. They plan to sell 25 of the hotel units will be sold as condominiums, which appears to be an
increasingly popular business model. The same developer plans to acquire the closed Grand Lucayan resort in Grand Bahama, and to create a "strip" in the Lucaya area of multiple adjacent hotels.
Jamaica
The company Karisma Hotels and Resorts announced that it intends to invest $1 billion in the tourism sector in Jamaica, with an eventual buildout of 5,000 hotel rooms for its "Sugarcane" project. The company currently operates 26 resorts in the Caribbean, Latin America and Europe.
Saint Maarten
The Maho Group (owner of the Sonesta Maho and Ocean Pointe Resorts) have announced a residential-resort development to be known as Emerald at Maho. The project is to comprise two buildings with four floors each, for a total of 136 condominium units. Prices will reportedly start at $86,790 per unit, indicating this would be one of the region's most affordable new condo developments.
Transactions
The iconic Cap Juluca resort in Anguilla was recently sold to Belmond Ltd. for a reported price of $84.6 million. The property includes 86 villa-style hotel units as well as four restaurants and bars and is on a pristine beachfront site in the west end of the island. The company also agreed to a new 250-year ground lease for 167 acres of excess land; much of which is low lying swamp but which also contains about 250,000 square feet of developable beachfront land. The company plans to build 25 additional beachfront keys and refurbish the existing units, with an additional $36 million investment (bringing the total investment to about $122 million, or over $1 million per key). They project EBITDA of between $12 million and $14 million following renovation, indicating a projected cap rate of between 10% and 11%.
The San Juan Marriott in the Condado area was recently sold by Rockwood Capital to XLD Investment, Inc. for a reported price of $187 million. The property contains 527 keys as well as a casino, over 14,000 square feet of meeting space and other amenities. The reported cap rate was 9.25% on trailing-12 income. The 18-story property was originally built in 1964 but was most recently renovated in 2015.
Conclusions and Forecasts
Developers and investors appear to continue to be bullish on the Caribbean hotel sector, with many projects having been announced and some funded. This is partly due to flattening yield curves in the mainland USA, although Caribbean hotel performance is currently relatively flat after hitting peak levels in 2015. There is some concern with the growing number hotel rooms in inventory and the number of new projects being announced, though it is likely that only some will be built. Growth in supply could result in a decline in occupancy, however, as arrivals begin to grow at a slower rate.
Part of the greater network of Integra Realty Resources offices, IRR-Caribbean provides real property and business valuation and consulting services throughout the Caribbean region; specializing in hotel and resort investment assets and businesses.