Juanillo, Punta Cana 23000, Dominican Republic
For Sale, Just Listed
$2,800,000.00 - Single Family Home, Villas / Townhomes
About the Villa
Welcome to the Villa Caleton 14, an exclusive and luxurious place located in the most prestigious resort of Punta Cana, Dominican Republic, in the international golf course of Punta Espada #1 of the Caribbean, Jack Nicklaus signature, and a few meters from the marvelous natural beach of Caleton on the Caribbean sea.
The villa is furnished in an elegant and sought style boutique Caribbean, with its wonderful wooden interiors and palm-thatched roofs, floors in stone typical of the area. You will find a natural environment that will let you live an unique experience to remember, with suggestive view on the turquoise sea and a garden with exotic plants that enters the villa and it blends with the environments.
The villa can accommodate 6 people in 3 spacious and elegant bedrooms with ensuite bath. Then you will find another living room, with an ensuite bath, that offers confort and privacy, to read, to look at the TV and to play.
The living can easily be transformed into a full fourth bedroom in case the new owner want additional sleeping space. As simple as adding a bed…
Be There !
Experience fully immersive virtual Spaces that feel
so real, it's like being there.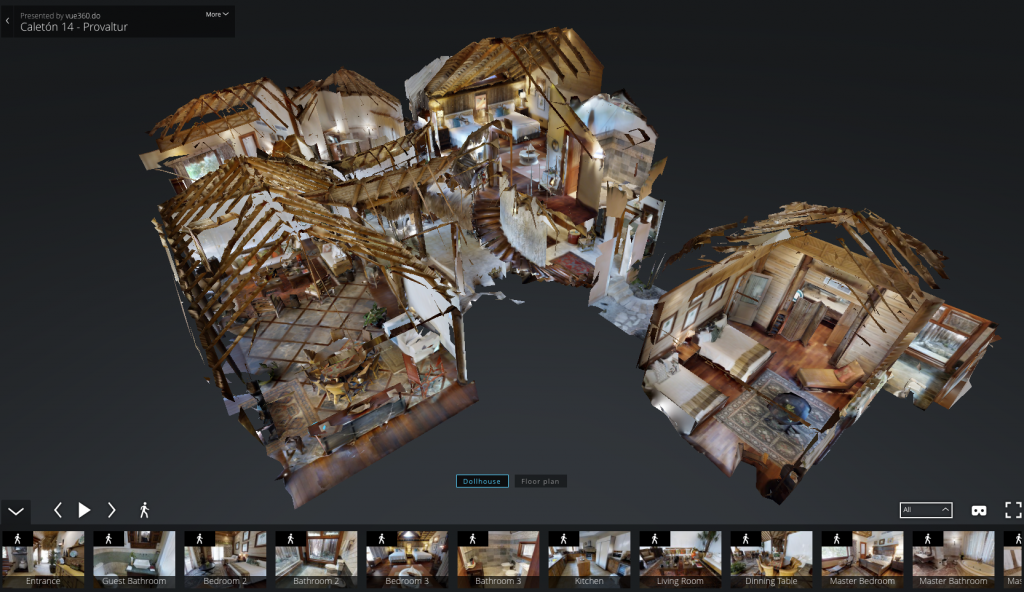 About the Resort
This prestigious resort is a tourist resort of elevated level realized on an extension of 125 million square meters 10 years ago. The most notable parts include a spectacular protected harbor marina tourist above all for dee-sea fishing boats. In fact the zone of sea between the resort and Puerto Rico is rich of great preys as the blue marlins and silver. In the area of the harbor there are restaurants and shops. There are numerous hotels and restaurants. Among these the Edén Roc, just a bit away from our villa, it offers high-level of catering and elegance besides the services of one of the most beautiful equipped beaches in the Caribbean. The Punta Espada golf course has entertained 3 tournaments of the champioship PGA and it is constantly reviewed as the first place between the golf courses of Mexico and Caribbean. In the immediate proximities of the resort there are numerous other fields of great sporting interest. The life in the resort takes place in absolute safety, also thanks to the professional surveillance systems. Besides these, the zone of the villas Caleton has a proper service of control of the area and its accesses.
Attractions & Activities (activities's management is by guest):
Golf (our villa is situated on the amazing 16th hole of Punta Espada)
Fishing
Sailing
Scape Adventure Park
Scuba/Snorkeling
Water Skiing
Snorkeling
Surfing
Swimming
Sports Tennis
Wind Surfing
Ocean
Beach
Health/Beauty Spa
Marina
Restaurants
Deepsea Fishing
Local Features (Point of interest):
Groceries and Pharmacy– 5 miles away from our villa
Medical ward and ambulance h24– 0,60 mile away from our villa
Hospital – 9 miles away from our villa
Airport – 8 miles away from our villa
Town of Punta Cana with restaurants and supermarket– 6 miles away from our villa
Restaurant on the beach– 0,12 mile away from our villa
Restaurant gourmet in exclusive Hotel– 0.60 mile away from our villa
Bavaro – 15 miles away from our villa (restaurants, night club, shopping malls)
FLY & STAY HERE FREE WHEN YOU BUY the VILLA
RECEIVE UP TO $4,000 BACK DURING FLY & BUY


SaveSave
SaveSave
SaveSave