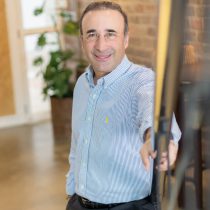 Luxury Real Estate Specialist – Owner and Chief Executive Officer of Provaltur International Inc, founded the Company in 2002, following his participation and involvement as founder in one of the most ambitious project under development in the DR, still today
Cesar Herrera is responsible for directing and managing the company's DR business activities and overall business development, including the network of associated agents specialized in the sale of key properties in the entire DR. Through Provaltur he participated also as a developer and marketing adviser in several developments in some of the best resorts.
Cesar Herrera is an economist with an international MBA and has been responsible to initiate and direct successful companies in the financial, export-import, retail and hospitality sectors. He is based at the Provaltur International corporate headquarters in Santo Domingo, Dominican Republic.
Specializes in Luxury Homes and manage just the best available for sale in the Dominican Republic. Quality and Value over Quantity. " We are a boutique luxury real estate firm "
Loves to Ski, Loves to Golf and Loves Photography. Speak english, spanish and french.
---
Contact Details
---
Send a Message