" I've tried to explain what Casa de Campo is. It's unreal; it's everything that anyone would wish for. I used to come for weekends all my life, but if I knew what living here was like, I would have pursued this 20 years ago."
By Heather Lincoln CasaLife Magazine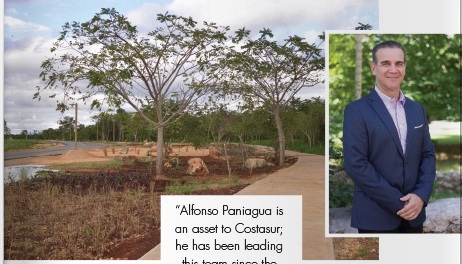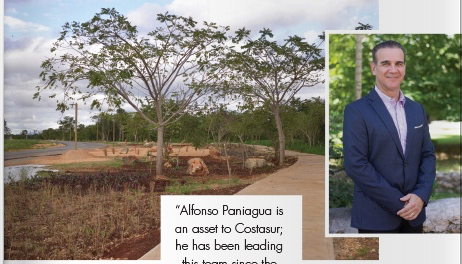 Juan Velazquez, Administrative Vice-President of Costasur, comes from a long professional carrot as the Manager for Esso Standard Oil and the VP of Group Ambar/ Santo Domingo Motors before joining Costasur three years ago to work hand in hand with Alfonso Paniagua.One thing he's fully committed for the future of Casa de Campo is its sustainable development with eco- friendly technological advances. with a 2km parkland in progress and many other initiative underway, Velazquez steers Casalife through the winding roads of Casa de Campo and explains how our piece of paradise continues a forward momentum without disturbing the essence of the resort's creation, which dates back to the early 1970's. As a nature-lover and sports enthusiast, his vision is made clearer with the intent to enjoy the environment he's building. We are sure to see him running with his three dogs in Vista Lagos in just a few short months.
For someone who may not know, what is Costasur?
Costasur is the developer, planner, and administrator of Casa de Campo. The resort started off with a hotel and a few villas, and as planing began with real estate so came the need for general services such as water, electricity, landscaping, waste management, and security as well as other requirements demanded by a large scale community. With over 2,200 propertied, Casa de Campo has grown to a city that has a resort within.
Explore properties for sale at Casa de Campo Resort today HERE ! 
What does your role entail?
In short, my responsibilities include coordinating that all functional areas work well within Casa de Campo to ensure that we have a world-class service to offer to all of our community members. The resort is updated, automated, and looks into the future with technology. We develop Casa de Campo in a sustainable way to make the resort a coveted place where people want to come, live here, and stay.
What has been the most exciting project for you so far?
I'm very enthusiastic about Vista Lagos. It is a lifestyle platform and I think it is something new and fresh. It's also the mastermind of those of us heading Costasur, and we really want to make it a successful project that the community embraces. The parkland will have playgrounds and jungle-gyms for kids, exercising areas and athletic grounds. People can go for a run or bike ride, take their dogs, have outdoor events and even small concerts. With trains and meadow, it's going to be very clean and stay true to the natural ambiance. It will change the scenery for the whole northeast quadrant, and is a stepping stone to development in the rest of the area.
Do you have any hobbies you enjoy doing within the resort?
I enjoy playing the guitar and I love outdoor sports. My drill is to run uphill to Chavón from the Marina and back, thats about 10k. The Marina is the lowest point of the resort and with the level of gradation it's pretty good workout. I play golf and tennis, and I've surfed since I was a kid. Mu wife Idarmis is a very good tennis player. She beats me, but she practices more than I do! My kids and I are very active; It's part of my personality.
What is your favourite place in Casa de Campo?
All places within the resort are beautiful, but if I were to select one to spend time at, I would say Altos de Chavón. I've been kayaking on the river and if you go out very early in the morning at dawn as the clouds are still settled on the river it's amazing.
What are some projects currently in the works for Casa de Campo the community may be unaware of?
We are embracing all that has to do with sustainability: the water management systems, automation for irrigation in the gold courses, as well as electricity in terms of changing lighting to LED. It's better lighting at lower costs, and provides a new age level of quality. While we identify opportunities for sustainable development, we try not to disrupt the DNA of Casa de Campo.
I'm also looking forward to the implementation of a recycling program; we're lining ourselves up for that – to provide a means for environmentally-consciuos people to recycle. Other areas include monitoring pollution and the usage of proper equipment with low emisions. Not to mention our on-going project for improved signage for directions and residential sectors, as well as the enhancement of the the access control platform over the web. In all of our processes, when we commit we move firmly to ensure projects are completed the right way. When we move, its without hesitation so we don't end up having to take two-steps back.
Explore properties for sale at Casa de Campo TODAY here! 
What do you envision for the future of Casa de Campo?
I envision Casa de Campo to be the place where both Dominicans and international community will want to live on a full-time basis. Management and shareholders have the will and commitment to maintain Casa de Campo as the reference for all resorts and communities in the region, while looking forward to making it a preferred place to live. This has been key for Casa de Campo's successful development during these past forty years. I feel very fortunate to be part of the management team, and look forward to devoting my best effort to make sure that Casa de Campo goes into the next forty years successfully.
Latest articles from our Blog