Twenty years ago, Baryshnikov and his wife Lisa Rinehart visited Oscar de la Renta in Punta Cana. They had such a good time, they built a house next door.
How did the world's most famous ballet-dancer-turned-actor-turned-director-turned-arts-center-founder end up on a beach in the Dominican Republic? Mikhail Baryshnikov and his wife Lisa Rinehart, a ballet-dancer-turned-writer-turned-filmmaker, describe life at the vacation home they built in Punta Cana two decades ago and have recently lovingly restored.
THE SEDUCTION
Mikhail Baryshnikov: It's very simple. It goes back to Oscar de la Renta. In 1998 he asked me to perform at a benefit for the orphanage he built in La Romana. I was in Puerto Rico at the time, and he sent a plane to pick me up. I arrived at his home in Punta Cana in the middle of the night and fell right asleep. I opened my eyes in the morning and looked around at the gorgeous house and the water outside, and I was totally smitten. Oscar [who died in 2014] and his wife Annette are people of such extraordinary taste in everything they do— gardening, furniture, food. You can't imagine the beauty of the place.
Lisa Rinehart: I remember you called that morning.
MB: I said, "Lisa, I'm in Eden!"
LR: Misha never calls from anywhere just to talk about how nice it is. For him to say that meant quite a bit.
MB: That morning Oscar was heading somewhere, but before he left he said, "Misha, do you think you could have lunch with Julio?"
LR: That's when this whole house thing started. Julio seduced him! Or, I should say, Julio completed the seduction.
MB: I had met Julio [Iglesias] before and knew he was very charming. At lunchtime we headed over to his property, which looks like a Balinese village with bungalows surrounding a swimming pool. Julio's father and a few friends were there, and we all sat down outside. In the Dominican Republic, I learned, you can easily spend three or four hours at lunch. There was incredible food and this and that. Oscar and Julio were such great friends they used to break out into duets together. We were happily drunk by the time the sun started to get low, and then Oscar, who had returned, said, "We would like to help you. We were just dividing properties." He explained that there would be a community of homes called Corales built inside Puntacana Resort & Club and that he and Julio had been two of the first to build. "It will be very few people," they told me. "And we will give you a very good price." And indeed the price was extremely generous. I said yes.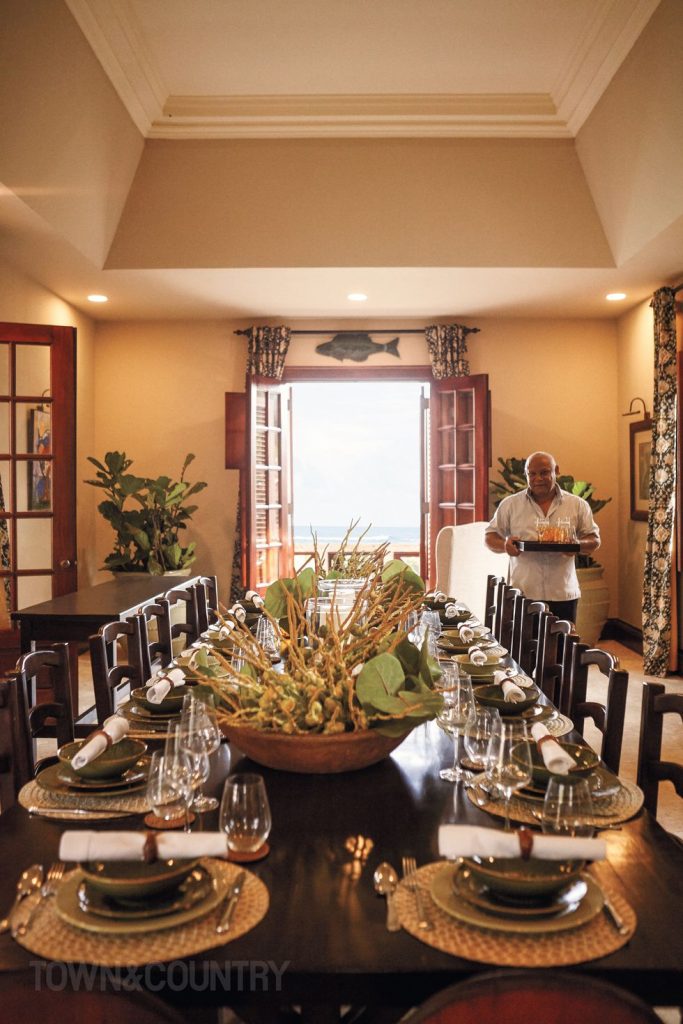 BREAKING GROUND
MB: We told Oscar and Julio we would build right away, but I was in a show in New York and didn't have time to make any plans. Fortunately, Oscar had suggested I meet the architect who designed his house at Puntacana, Ernesto Buch. Ernesto happened to be passing through the city at one point, and he came to see me perform. Afterward, Lisa and I sat down with him.
LR: Ernesto is a very creative and interesting man. He was born in Cuba and studied at Harvard. He's classically trained, and he immediately said, "I want to do something theatrical: squares, arches, colonnades, and a touch of Spanish."
MB: He knew the piece of land we had purchased. It sticks out into the ocean a bit more than others at Corales, which has worked to our advantage, because it gives us a sense of complete privacy. The land slopes toward the water, and Ernesto said, "Let's bring in some more earth on top, make it at, and build the house into the slope on two levels." And that's what we did. The upper section facing the driveway is squarish, with a courtyard surrounding a little fountain. It's like a deconstructed Roman villa or a cloister.
LR: Every time I walk on the covered walkway now, I have a flashback of the children riding their Razors there when it rained.
MB: The side facing the ocean is two stories and has what I like to call a Romeo and Juliet balcony. The house looks rather grand from the ocean but not imposing from the land side.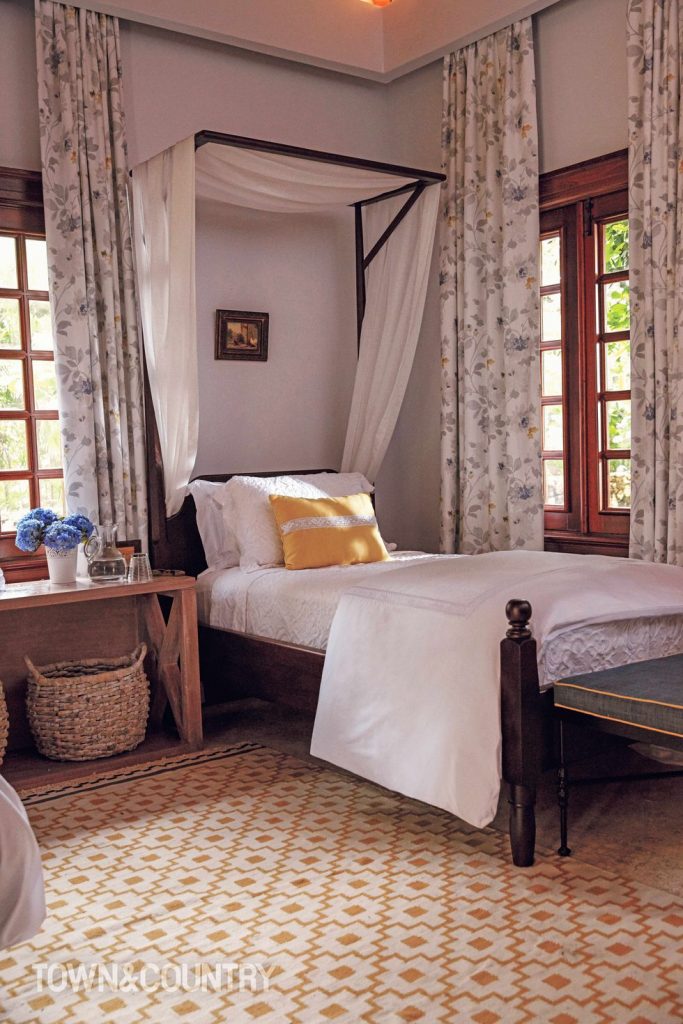 THE EARLY YEARS
MB: Construction took two years, and we began coming down right away with our children. Our youngest, Sofia, was only four at the time. At first it was very minimal, not a lot of furniture.
LR: I would call it monastic.
MB: Maybe there weren't a lot of comfortable places to sit, or reading lights around the bed, you know what I mean? But I liked that halfway-done kind of thing. It was a house in process.
LR: Let's just say that our kids, when we first started going down… I think they would have been happier down the beach at Club Med.
MB: True.
LR: And possibly I would have been too, only because they would have been entertained.
MB: But now they adore it. They bring their friends, their significant others. They're not kids anymore.
LR: It's a beautifully designed space for a lot of people. You can stay there without anyone feeling that they're on top of one another.
THE ENDS OF THE EARTH
MB: The furniture that's there now came from many different places. I sold a house I owned in Sherman, Connecticut, where I had collected some wonderful pieces I had bought in Taiwan.
LR: We had a place in St. Bart's that was also sold, and that's where some of the dark "church furniture" comes from: a Victorian monastery table, a few chairs, the mirror and things. There were also things we had collected in our New York and Paris homes.
MB: There's some Russian furniture that came from the St. Petersburg apartment of my late teacher. And some very special pieces I found in an antiques store in China. The owner had studied dance and knew who I was. We spent two days talking and looking at his collection together.
LR: Misha has a really good eye.
MB: Furniture has always been an interest. When I lived in Leningrad, a lot of friends were people of great artistic curiosity. Back then they were collecting what we called "red wood furniture": 17th-, 18th-, and 19th-century Russian/Italian pieces.
LR: Last year we decided it was time to redecorate. We had the furniture professionally restored. We chose new linens and curtains. And we added amenities.
MB: Those reading lights.
LR: Now we rent the place when we're not using it.
ESCAPE ARTISTS
LR: How we use the place has really evolved over the years. First and foremost, it remains a place for us all to get together, but we also use it to pursue our passions. When Misha arrives he gets full of energy and does more and more things.
MB: I'm on the phone with [the Baryshnikov Arts Center in] New York all the time. I have a little studio here where I have done a few projects with my co-conspirators in crime. We develop future pieces with the dancers. Sometimes I play a little golf; I go fishing. When we first arrived I started photographing dancers around the DR and published a book called Dominican Moves.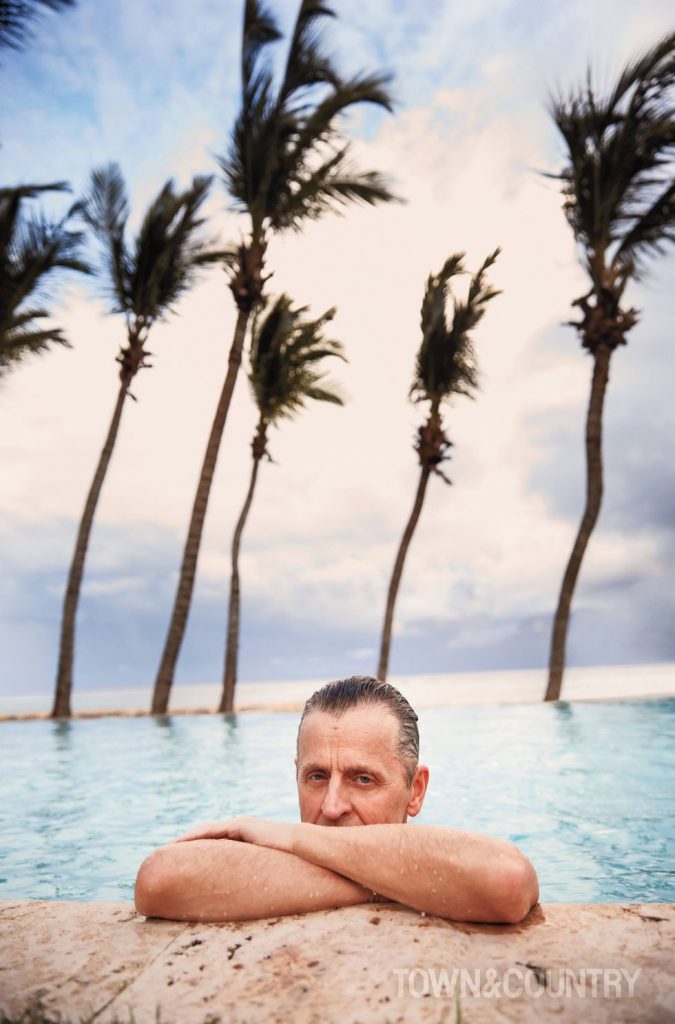 LR: For me this is a place to read and write. And we see Annette and other friends.
MB: But it's also a place for us to connect with our past. The furniture and art serve as a sort of history book. Every painting and every chair triggers something different from the last 40-plus years, since I've been in the United States, and all the places Lisa and I have been.
MB: Too bad our furniture can't talk.
Published in the Town & Country Magazine in March 2018 Edition