By Marcello Ballester , December 11, 2019, from the Punta Cana Bavaro Online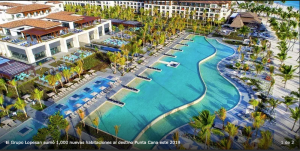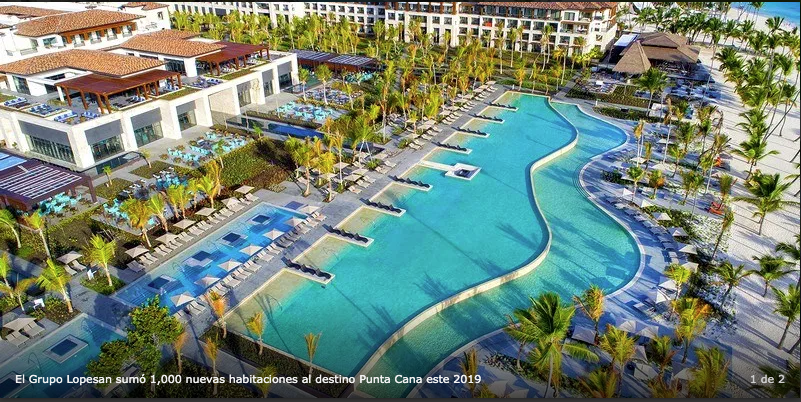 For the year 2020 there is a growing interest in the purchase of new properties and beach land, expansions, remodeling and announcement of new hotels in the Punta Cana destination.
---
Punta Cana, Dominican Republic – Despite the setback suffered by the Dominican tourism sector in 2019, investments in the hotel sector do not stop and it is this year that ends, there is a growing interest in the purchase of new properties and beach land, expansions, remodeling and announcement of new hotels that seek to increase the current hotel plant by 15% by 2020/21.
The latest report published by the hotel analysis firm STR shows that the Dominican Republic leads the ranking of new hotel rooms under construction with 5,738 rooms under construction in 2019, an increase of 7.9 percent compared to 2018.
Of these 5,738 new rooms, 5,500 are being built in Punta Cana, Eastern Dominican Republic, which includes beaches from Juanillo in Cap Cana, Cabeza de Toro, Playa Bávaro, Macao, Uvero Alto, La Vacama, and Miches.
Hyatt Ziva and Zilara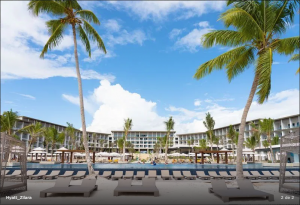 In Cap Cana it is expected that Playa Juanillo will be the center of the hotel zone with new properties that will increase the number of rooms in this luxury enclave of the destination. Specifically, Playa Hotels & Resorts has just partially opened its new 750-room Hyatt property, the Ziva and Zilara, which is expected to be fully operational by January 2020.
Margaritaville Island Reserve by Karisma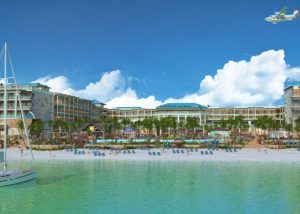 On the other hand, it was confirmed the investment of Karisma Hotels & Resorts, which with its alliance with Margaritaville will raise a new resort of 519 rooms in Playa Juanillo de Cap Cana, which represents an investment of US$ 150 million and will market it under the name of Margaritaville Island Reserve by Karisma.
Two new hotels
On the other hand, a new hotel investment was confirmed for Playa Juanillo which will mean 2 new properties that will add up to about 1100 rooms, which sources close to Cap Cana assure will be announced in the next months since at this moment details of these operations are being closed.
As we learned one of these projects has already been submitted for approval in both tourism and environment and is about to start construction, is called St. Regis Cap Cana and is listed as a tourist hotel project of 197 rooms.
Catalonia Hotels
On the head side of Toro, a new investment is expected from Catalonia Hoteles, which recently closed a deal to buy a plot of land adjacent to its complex and which it is keeping on stand-by since all the efforts of the hotel company are in two important points for the company: the definitive acquisition of Catalonia Santo Domingo (former Hilton) already made and the opening of its new property in Playa Mujeres de México.
As far as we know, the company is contemplating a large investment in the renovation and adaptation of the Catalonia Santo Domingo. For the new property in Punta Cana there is nothing definitive but it is expected to be similar to the one being built in Mexico and about to be inaugurated, since the executives and owners of the chain (Vallet family) were very satisfied with the final result of this 434-room, 5-star All Inclusive hotel, which is located on the seafront in Costa Mujeres, about 7 km from the Mexican city of Cancun.
Serenade Punta Cana Beach & Spa Resort and Vanguard Punta Cana by Best Hotels
The new properties of the Spanish company Best Hotels in Dominican Republic will be located in the first line of Cabeza de Toro Beach, currently in an advanced state of construction and completion in its first phase that will include the Serenade Punta Cana Beach & Spa Resort.
This new property is built by the renowned local company BestinproGroup and is the jump to the Caribbean for Best Hotels, a hotel company that has several properties in Mallorca as well as in Tenerife, Almeria and Barcelona.
The first hotel will be called "Serenade Punta Cana Beach & Spa Resort by BEST HOTELS", and will have 592 rooms, with an investment that exceeds US$ 80 million and is expected to open next summer season 2020.
In a second stage, the Vanguard Punta Cana by Best Hotels will be built, a smaller property of 158 rooms, but of a higher category and luxury suites.
Blau Hotels
After losing the management of four hotels in Cuba, Blau Hotels is contemplating its future expansion in the Dominican Republic. To this end, it was learned from a source close to the operation that it recently acquired a plot of beachfront land adjacent to its Natura Park Eco Beach Resorts in Cabeza de Toro. Although details of this new investment are not yet available, the hotel company is contemplating building a new resort there that follows the natural and ecological line of its flagship property in the destination.
Playa Bávaro with grand openings this 2019
---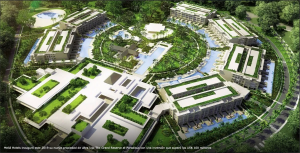 The flagship beach of the Punta Cana destination, Bávaro Beach, also experienced exponential growth in its hotel plant with two major openings that caused a stir in this final stretch of the year.
Lopesan Costa Bávaro Resort Spa & Casino
The Lopesan Group inaugurated this 2019 its new 1,048-room property in Playa Bavaro with an investment of over $257 million. To this first investment will be added a second phase that will add a total of 2,600 suites.
The company decided to bring forward the materialization of the second phase of the Lopesan Costa Bavaro Resort Spa & Casino in view of the bureaucratic difficulties that continue to be encountered in the Gran Canarian municipality of San Bartolomé de Tirajana, and which have slowed down investment in the tourist center of Meloneras, putting the Dominican Republic as the first option for its new investments, which will now bring its total project for Playa Bávaro, the Lopesan Costa Bávaro Resort, to 2,600 rooms.
The Grand Reserve at Paradisus
Meliá Hotels is another hotelier that has bet on expanding its room offerings in the destination this year, with the inauguration in early 2019 of its new ultra luxury property The Grand Reserve at Paradisus with an investment that exceeded US$ 100 million.
This new superior 5-star hotel, with a total of 432 rooms, is located within the Meliá Complex at Playa Bávaro, and is in the Ultra Luxury/Family category with a sophisticated, elegant, modern design and with all the independent services, such as reception, parking, beach club and premium club.
Large Renovations
Now Larimar Punta Cana
This hotel, which belongs to the Martinon Group and is marketed by AM Resorts, closed temporarily to carry out reforms to its infrastructure, its rooms, the reception and the construction of a new beach club. There will also be improvements to the Preferred Club to which 17 new rooms will be added, work that began at the end of August 2019 and according to the chain will extend until its reopening in December 2019, the beginning of the high winter season.
Grand Bavarian Princess
Princess Hotels & Resorts has started this year the renovation and remodelling works of its hotel "Bávaro Princess" in order to place it again at the forefront of the hotel industry, for which it has proceeded to close temporarily until December 21, 2019, date in which it will reopen its renovated doors under the name of "Grand Bávaro Princess".
The important investment that will be made in the project will also lead to an increase in the capacity of the complex, which will increase from its current 808 rooms to 1290.
The ambitious project will involve a thorough renovation of all areas, including rooms, as well as the inclusion of new services that will further enhance the quality that the hotel has been providing to its guests for many years.
Las Corales / El Cortesito
Grand Fiesta Americana Punta Cana
The group formed by Los Corales Development, Bestinpro Group and Grupo Posadas announced the beginning of the construction of a hotel in Playa de Los Corales in Bavaro. This new property would be marketed and managed by the renowned Mexican group Posadas and would be its spearhead for landing in the Dominican Republic, with projects that include up to 5 properties in the country including the capital Santo Domingo.
Grand Fiesta Americana Punta Cana will entail a total investment of US$ 138 million, will have 554 suites, with inauguration scheduled for 2021. It will include a shopping mall, an amphitheater, an innovative Laguna Cristalina and 7 restaurants.
Impressive Royal Resorts & Spas
Impressive Resorts & Spas has in its portfolio the expansion of the hotels (ex Dominican Beach) that it has been marketing in the area of El Cortesito in Playa Bávaro for some time and under the brand name Impressive Resorts. The new hotel will be called Impressive Royal Resorts & Spas, it will be a single adult and all-inclusive premium hotel with 308 rooms.
The hotels currently total about 750 rooms and are composed of the Impressive Punta Cana Resorts & Spa, a five star All Inclusive and the Inpressive Premium Resots & Spa, a five star All Inclusive Superior. This new hotel expansion will bring the total number of rooms to 1,058.
New urban hotels for the destination
The Punta Cana destination is also outlined as the area that will add more rooms in the "urban" and "business" segment, several local companies associated with the largest hotel companies worldwide, began their projects to open more than 500 rooms for this type of accommodation in the course of 2020 and 2021.
Hampton by Hilton Punta Cana Airport & Commercial Center
The La Chapelle family has begun work on the new hotel "Hampton by Hilton Punta Cana Airport & Commercial Center", a new property in the urban segment destination, with an investment of US$ 15 million.
The Hampton by Hilton hotel will be located on the Boulevard Turístico del Este, near the Punta Cana International Airport. It will have 150 rooms on three floors, an underground parking lot and will occupy a construction area of 7,200 square meters.
It will also integrate a commercial area that will have 2,000 square meters that will house restaurants, offices and a Sky Bar with pool and view of the airport.
Hodelpa Garden Court
The Hodelpa Hotel & Resorts chain recently began construction of the long-awaited Hodelpa Garden Court on the Vista Cana project on Punta Cana Boulevard. This will be an urban/commercial hotel with 102 rooms designed for the business traveler and for those who seek an alternative to the All Inclusive, said Mr. Edmundo Aja, President of the Dominican hotel group, who is confident in the growth of this market for the coming years.
Hilton Garden Inn Punta Cana and Hotel Moxy Punta Cana
Noriega Group developers have closed a financing and construction agreement to start next year in Down Town Punta Cana the so-called "Housing District", which will host the construction of two hotels, residential and recreational areas, which they say will enliven the sector and boost the commercial heart of Punta Cana destination.
Among the important projects to be developed by the group are the Hilton Garden In Punta Cana hotels with 120 rooms and the Moxy Punta Cana Hotel with 130 rooms, the first hotel with this innovative brand in the Caribbean. Between them, they will add 250 rooms to the urban market.

Iberostar Bávaro Selection Resorts
---
After the integral reforms carried out at Iberostar Bávaro Resorts, a property that was closed in July, it is expected to reopen on December 20, 2019 with the new brand Selection.
As we announced exclusively, these major reforms include the construction of a new hotel that will operate independently and will be called "Coral Level at Iberostar Selection Bávaro", a brand that the chain has already successfully tested in Mexico.
Coral Level at Iberostar Selection Bávaro
The new hotel of the chain commanded by the Fluxa family, "Coral Level at Iberostar Selection Bávaro", will have 160 luxury suites and will be located on the beachfront next to Iberostar Bávaro Resorts. It will have an ultra all inclusive regime, with services and quality in its offer that will place an intermediate step between the Iberostar Grand and the Iberostar Bávaro.
Aimed at a select and exclusive public, "Coral Level at Iberostar Selection Bávaro" will offer extra quality in all details and rooms in which modern design reaches its maximum expression, with Juniors Suites, Juniors Suites Family 2 rooms and Presidential Suite of 82 m2. with the best sea views.
The new hotel will offer a personalized service with its own reception, private swimming pool, exclusive sector in the beach, restaurant and bar only for guests and Room Service 24 hs. The hotel guests can access all the facilities of the Iberostar Bávaro Resort complex which has 4 specialty restaurants, Spa Sensations with 21 massage rooms and hydrotherapy circuit, Star Camp, sports facilities and an 18-hole golf course designed by P.B. Dye.
Macao de Chapur Project
Inversiones Zahena S.A., a company controlled by Mexican businessman Roberto Chapur Zahoul and currently operating the Hard Rock Hotel & Casino Punta Cana, was approved by the Dominican Ministry of Tourism for the construction of a new 2,950-room hotel complex on Macao Beach in the Punta Cana tourist destination.
The new investment is registered under the name "Macao Project" and received the provisional classification last May by Confotur of MITUR. The new project will be located in the complex that the businessman controls and that includes the Hard Rock Hotel Punta Cana, the golf course Cana Ba and several projects.
Moon Palace Hotel Punta Cana
Despite opposition from some traditional local hotel sectors, but supported by both the presidency and the Ministry of Tourism, the Palace Group announced this year its new project in Macao that includes a modern vertical hotel, which will change the landscape of that corner of the destination.
Gibrán Chapur, Executive Vice President of Palace Resorts, indicated that this project will involve a total investment of USS 600 million, will have more than 2,100 rooms in a building of at least 18 floors and 77 meters high. It will have a large casino, convention center, 21 gourmet restaurants, 7 bars, sports amenities, spa, beach club and an 18-hole golf course designed by Greg Norman.
Dreams Macao Beach Punta Cana
The company AM Resorts recently announced the closing of the agreement that will allow it to manage the new hotel that is currently being built in Playa Macao, Punta Cana destination. The hotel will operate under the Dreams Resorts brand and is expected to open its doors by the second quarter of 2020.
Dreams Macao Beach Punta Cana will have 500 beachfront rooms and will be the first resort to be located on the world-renowned Playa Macao, between the towns of Bávaro and uvero Alto.
The infrastructure will include three impressive swimming pools, two of which are Infinity overlooking Macao Beach and the Anamuya Mountains; a local water park, Core Zone Teen's Club, Explorer's Club for Kids, games room, a batting cage, among other facilities.
The complex is owned by Grupo Santa Maria SA, a company known for its strong presence in the development of water parks, hotels and entertainment centers in the Caribbean and Europe. The hotel was designed by GVA Arquitectos and is built by the local firm Codelpa.
Selectum Hacienda Punta Cana
The plans of a group of investors of Turkish origin, which among its companies is the operator Anex Tour and the airline Azur Air, to raise a macro-project of 11 thousand rooms in Playa Macao is very advanced. For these purposes its local company Burmaize Corporation S.R.L. closed this year 2019, the purchase of 2 million meters of virgin land with about 3 kilometers of beachfront in this corner of the tourist destination of Punta Cana.
The megaproject will be a long-term investment and to begin with, the first 4,000 hotel rooms are being studied, which will be built in various stages in the course of 2020, 2021 and 2022. For this, and as a spearhead, a small pre-existing stay in the property was remodeled and transformed into a 9-room luxury boutique hotel called "Selectum Hacienda Punta Cana".
For this promising start, the company also signed experienced Spanish hotelier Francisco "Paco" Castillo, who will manage this luxury boutique hotel and the group's upcoming hotel investments.

---
Uvero Alto
Finest Punta Cana Resort
Excellence Group Luxury Hotels & Resorts has announced plans to open your new property with your Finest Resorts brand in Punta Cana.
The company says it will open its doors in the first half of 2020, Finest Punta Cana will be the third property of the Excellence Group in the Dominican Republic, expanding its presence in the region. Finest Punta Cana will house all the demanding standards and luxury Excellence Group has become famous for, with 450
suites, including 60 family suites, ranging from 800 to 2000 feet squares. All of the elegantly designed suites will feature large ize, premium in-room bars, private pools and suites family design.
Hotel Now Onyx Punta Cana
Grupo Martinón, on behalf of its local company Inversiones Ocre Rojo, S.A., inaugurated the extensions and the new water park at your hotel Now Onyx Punta Cana in Playa Uvero Stop.
The expansion consists of 320 new Premium Jr. Suites including 16
Family Suites that can accommodate up to 10 people and have a view of the lush gardens. With this expansion the Hotel Now Onyx Punta Cana total of 822 rooms.
The imposing central pool and water park is integrated by a slow river
3.5 meters wide and more than 200 meters long, a wet bar and Dry bar, stage for entertainment and four slides, one slide 11.5-meter high Kamikaze, a Black Hole Slide that spins in circles, open crescent slide and black hole slide that ends at the central pool waterfall
Grand Sirenis Punta Cana Resort
The Sirenis Hotels & Resorts chain reopened its complex in 2019 Grand Sirenis Punta Cana Resort, after carrying out a reform property that included the renovation of its 818 rooms, a new Brazilian restaurant, a square with an open-air theatre free, a sports bar, a cafeteria and ice cream shop, a gym, a healthy bar and a spa.
Vanessa Costa, director of operations, explained that the property now
shows a more contemporary style and a tropical-chic design, directed
mainly to family tourism. "The remodeling has been motivated by the chain's interest in following the growth projection of a leading international tourism destination such as Punta Cana".
Pure Salt Orchidarium
Pure Salt Luxury Hotels, owned by the Amengual family, gives way to Caribbean and announced the opening of its first hotel in the Dominican Republic in early 2021. The hotel will be located in Uvero Alto and first sea line, will have 250 rooms and 11 villas. The investment will be of $85 million. The plot where the hotel will be located has 125,000 m2 with more than 300 linear meters of front beach.
The services offered by Pure Salt Orchidarium will be 5 restaurants a Spa and Wellness area distributed on 2 floors, its swimming pool infinnity with sea views, 4 bars, 1 coffee shop and a Cigar Bar. It will be a hotel focused on customers with high purchasing power who are looking for exclusivity, but it will also attract the MICE market since in its The project includes a conference room of 550 m2.
Infiniti Punta Cana
This year 2019 also saw the start of construction of the Infiniti Punta Cana, a project belonging to the Spanish group BG Hotels and whose investment will be $50 million.
The hotel will be a five-star luxury hotel, built by the Spanish Construye Capital. This is the first hotel that the construction company and the BG Hotels group are raising in the country.
The Punta Cana Infiniti will have 345 superior luxury rooms, which will cover a variety from the Junior Suite to the Premium Suite, 7 restaurants, 8 bars, Commercial area, Showroom, VIP lounge area, Fitness center, Wellness area, Sports area and swimming pools outside.