Cañada La Sajona, Carretera Sanchez, Azua
For Sale, Just Listed
$5,750,000.00 - Farm/Ranch/Plantation
Highly Profitable and energy efficient Mangoes and Avocados ( Green Gold ) Plantation near Presa Sabana Yegua, Azua
This is the plantation you were looking for to complement your business of distribution and supply for Europe, USA and asian market with immediate high revenues and positive Cash-Flow
Most technologically advanced plantation in the Dominican Republic. Unique drop irrigation system with solar panels.
It has 436 acres (1,764,000 m2) with 1,201,000m2 planted with mangoes and avocados in full production for exporting and also for sale in the local market.
Projected 2020: 8,350,000 mangoes; 12,770,000 avocados; other ( papaya, banano ) 12,000m2 
This model plantation has approximately 23,000 avocados trees and 19,500 mangoes trees in production and has planted another 13,000 mangoes to be growing in about two years. Also more than 8,000 banana trees and papaya in 12,000m2 of land.
They are currently in full production.
The property has several production buildings and one 5,000m2 greenhouse where they grow selected vegetables of high demand like pepper and others
It also has 3 large artificial reservoirs / ponds although this plantation has no water problem because it is continoulsy irrigated with fresh water from a canal that comes directly from the nearby Sabana Yegua Dam which is the main irrigation system of this entire zone. This property is perfectly enclosed and limited by a canal south and hills north and east
Stunning 360 aerial photo at 100 meters above the Plantation
Click here: https://viewer.hangar.com/360?productId=80RJ6OQ0
or click the Picture below to see from above this beautiful finca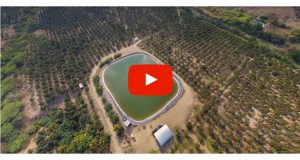 About the Zone
The property is located in the near South from Santo Domingo, just after passing the city of Azua approximately 20 minutes from Azua with excelente access and roads. The farm  has multiple paths inside for vehicles and is very well organized and can be traveled by car complete. Very close to the Sabana Yegua Dam.
The Sabana Yegua Dam benefits more than 15,000 producers of avocados, mangoes, industrial tomatoes, bananas, bananas and other items. The Dam is of the utmost importance for the agricultural development of the Azua Valley and feeds this farm with abundant water safely and uninterruptedly.
Sold with all building and equipments on the plantatino and avocados and mango production and other crops.
If you are interested we can schedule an appointment to show it or if you have any questions please contact me
Interested in more fincas?
See more plantations immediately available following this link: https://provaltur.com/property-search-2/?type=hacienda 
Features