While they may not be among the most "luxurious" or the "hottest" prime property markets in the world quite yet, these diverse yet similarly active luxury housing markets are on the upswing. Here are our top five picks of luxury property markets on the rise:

Washington, D.C., Metro
Moving the Needle: Millennials and Boomers Historically, and perhaps surprisingly, the change of executive power in the D.C. metro—including the U.S. Capital, and areas of Virginia, Maryland, and West Virginia—doesn't have a discernible impact on its local real estate market. While a handful of high-profile new residents make headlines, a steady and strong job market offering professional and well-paying jobs—many in law, consulting, government contracting, public policy, and public affairs— sustain the greater D.C. area between elections.
Insights from Our Local Expert
"Arlington, Virginia, right across the Potomac from the District, is particularly attractive to affluent millennial buyers. I've seen reports where Arlington ranks No. 1 in the United States in this demographic, edging out well-known tech hubs. Our agents report that these new high-end buyers are educated, dual- income couples earning good salaries at a young age. Like much of the D.C. area, Arlington is attractive because of the strong job market, convenient public transportation options, walkability, lively dining, award-winning schools, and open spaces."
— Jeffrey S. Detwiler, President and COO, The Long & Foster Companies
The Christie's Luxury Housing Rankings


Lake Tahoe Region, California & Nevada
Moving the Needle: Tourism, Tech, and Tesla In 2016, skier visits to the region skyrocketed by 110 percent over the previous winter and 2017 has kept pace.3 With 80 percent of luxury property purchasers from the tech hub of San Francisco's Bay Area, it is no surprise that telecommuting buyers, both millennials and boomers, are on the uptick in Lake Tahoe. In the area, 55 percent of pur- chases are second homes and 40 percent are third homes. A short distance away in Reno, Tesla CEO Elon Musk is building a 5.5-million-square-foot plant to manufacture bat- tery packs for the innovative electric-car brand's lower-cost Model 3 car due out at the end of the decade. Other major corporations, including Apple and Switch, are building a sizable presence in this gambling mecca.
Insights from Our Local Expert
"There's been a real renaissance in tourism and a recent tech surge that directly affects the housing market. The number of homes sold for more than $1 million increased 28 percent around the lake. The East Shore saw the biggest movement, with a 65 percent increase in homes sold for over a million."
— Michael Oliver, CEO, Oliver Luxury Real Estate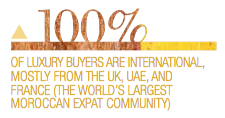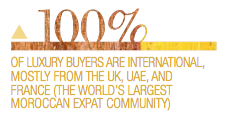 Marrakech, Morocco
Moving the Needle: The New Africa Just this January, Morocco was readmitted to the African Union after a 30-year hiatus.4 This is good for Africa and good for Morocco's economy. Due to its continued relative political stability, the city of Marrakech is increasingly seen as a safe haven for real estate investors in the Arab region.5 Luxury property sales are beginning to recover, yet still remain 50 percent below their 2007 peak. This appealing pricing, positive economic outlook, and recent increase in requests from UK-based Indian and Pakistani citizens are likely to spur Marrakech's luxury property market to a new growth phase.
Insights from Our Local Expert
"We remain positive with Morocco taking a leadership position on the African continent, promoting the country as an affordable, safe, glamorous, and innovative alternative to other parts of the world for remote workers. We have had inquiries from Americans, Belgians, Indians, French, Middle Easterners, Scandinavians, and Moroccans and it's likely the Chinese will soon look, too, now that there are no visa restrictions."
— Alex Peto, Partner, Kensington Luxury Properties Marrakech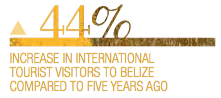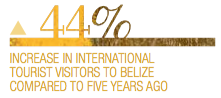 5 things agents should never let their clients do at showing
Belize
Moving the Needle: Star Power In October of 2016, after extensive public hearings, Oscar-winning actor Leonardo DiCaprio received a green light from the Belize government for his eco-resort, Blackadore Caye. With this all-important nod, DiCaprio can finally begin construction on the property that he purchased a decade ago. The resort, with a mission to meld environmental responsibility and ultimate comfort, could open as soon as 2019. The DiCaprio Seal of Green Approval is a definite plus for the Belize real estate market as a showcase of the country's pristine eco-diversity and beauty for a potential new audience of international luxury buyers.
Insights from Our Local Expert
"We look forward to continuing to promote DiCaprio's vision for Belize
as a paradigm of relaxation, green hospitality, and ecological stewardship. As more people come to Belize, we expect the luxury property market to prosper."
— Gil Castillo, President, SanCas Realty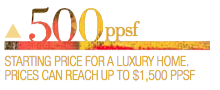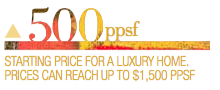 At a Glance: Defining Luxury Real Estate
The Bahamas
Moving the Needle: Non-Taxing Living  In addition to some of the world's most beautiful beaches, the Bahamas offer added advantages: no restrictions for expats purchasing real estate, and reduced tax burdens.6 As the world becomes more chaotic, island living, far from the madding crowd, becomes even more attractive. While 80 percent of buyers still consider this their sec- ond home, more are pulling up stakes, working remotely, and moving their families because of the educational opportunities. Seventy percent of buyers are international, with millen- nials on the rise. Although Hurricane Matthew, which landed in Nassau and the northern part of the country in Oc- tober, caused significant destruction, the cleanup was swift and the disaster did not deter luxury home buyers.
Insights from Our Local Expert
"A welcome upsurge in the sale of island properties in the Bahamas closed out 2016. With world stock markets hovering at record levels, in my experience this inspires investors to look for ways to consolidate their assets and fulfill their dreams at the same time. A Bahamian second home ticks both of those boxes."
— John Christie, CEO, HG Christie