Recovering a lost tradition
Published by Punta Cana Resort & Club Special Edition, Antillana Architecture Archives Magazine AAA.
Starting with the house of Oscar de la Renta and until the present time, we have designed more than a dozen houses that have been built in Punta Cana. For these houses facing the sea we have looked towards typologies well tested and adapted to this climate, very notably the house of verandas or corridors. Variations of this type have occurred in the Antilles for obvious climatic reasons. Indeed, some scholars maintain that the French plantations of Louisiana derive from a typology first developed in the colony of Saint Domingue. Deep verandas, often around the entire house, protect the interiors from sun and rain, and provide open, but covered, living areas; delicious in this warm climate, but cooled by the breeze; of intense sun and sudden showers.
Different manifestations of classical architecture were brought by the Europeans to the Caribbean. Here they were transformed and adapted to the climate, becoming an essential part of the region. On this island, classical architecture has been part of the constructive traditions since the Spaniards founded the city of Santo Domingo in 1496 until as recently as 1947, when the National Palace was completed. Despite a long and worthy architectural heritage, knowledge of the classical language of architecture and vernacular traditions has been lost. This has largely been replaced by very lax and informal construction standards, and often with a low level of craftsmanship. In this environment, trying to recover a lost tradition, building classic architecture of a certain rigor and with correct details, has turned out to be a difficult task, but not impossible.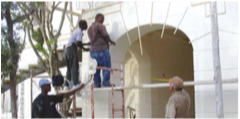 In my first houses in Punta Cana, the daily presence of the architect in the construction was a necessity. In fact, for many years he shared the booth of the work with the builder, getting to understand each other. We work very closely with workers and artisans, almost all very good, as well as with workshops and suppliers. We all learned from this collaboration. Of them, I learned about their crafts; from me, they learned details and classic lessons. This is how a work team came about, with a basic understanding of classic details and identities with traditional architecture and construction. Since then we have continued working together.
These houses have been for me an exploration of tropical classicism and classicism in the Caribbean. Responding to the demands of the climate and using local materials and construction methods, thus achieving respect for the traditions. I want to think that there has been an intention to create a coherent vocabulary, a particular classicism. I am pleased that part of the rescue is that today there are artisans such as pedreros, plasterers, perrilleros and cabinetmakers who are capable of making classic details, be it a capital, a column, or a cornice; and very especially, that other architects have been enthusiastic to follow the path of classical and traditional architecture. The legacy continues.
"For these houses we have used the same palette of local materials. The beautiful Dominican coral stone, it is used for floors, coatings and even for columns … »
Practice Philosophy
The firm Ernesto Buch Architect, Inc. specializes in classical and traditional architecture and urbanism. As traditionalists, we are committed to an architecture that is responsive to its physical setting. We believe that a building must be an integral part of its surroundings, whether urban or rural. It must be well suited to the climate and respectful of the historical context and the cultural, building and architectural traditions of the place. Without eschewing contemporary techniques, we use local building methods and incorporate indigenous materials in our work. We work closely with the builder, artisans and laborers during the building process. As classicists, we are interested in the language of classical architecture as manifested through the ages and adapted to various settings, climates and functions, as well as different social and cultural contexts.
Built Projects in Puntacana Resort & Club:
Casa Oscar de la Renta, Corales, 1997 Casita de Maria, Corales, 1998 Casa Balinesa, Corales, 1998 Casa Eliza, Corales, 1999 De la Renta: Octagonal Folly, Corales, 1999 Casa Guayacán, Corales, 1999 Barishnikov House, Corales, 2000 De la Renta: Exercise Pavilion, Corales, 2000 *Iglesia Nuestra Sra. de Punta Cana, 2002 *Álvarez Renta House, Corales, 2003 *Hacienda del Conde Arco, Corales, 2004 Honeymoon Thai Cottage, Corales, 2004 La Colina, Corales, 2005 Casa Herrera, Arrecife, 2008 Casa Almacigo, Corales, 2009 De la Renta: Fountain Folly, Corales, 2011 Villa Margarita, Arrecife, 2011 Casa Sheridan, Corales, 2015 *Colaboration with Zorrilla & Baquero Arquitectos
Under Construction:
Corales 52 Casa para Luis Migoya, Arrecife La Casa de Cleto, Puntacana Village
Awards:
ARTHUR ROSS AWARD Given by Classical America For the Richardson Library, 1994
CHARLES A. BARRETT MEMORIAL AWARD By the Congress for the New Urbanism, Florida Chapter, 2008
ADDISON MIZNER MEDAL Given by the Institute of Classical Architecture & Art, Florida Chapter for Casa Almácigo, Corales de Punta Cana, 2012
ADDISON MIZNER MEDAL Given by the Institute of Classical Architecture & Art, Florida Chapter for La Colina, Corales de Punta Cana, 2015
THE SEASIDE PRIZE Given by the Seaside Institute, Seaside, Florida, 2018