Por: Martin Kaufmann| November 11, 2018 4:00 pm – Golfweek 
Cada vez que alguien comienza a comparar un campo con Pebble Beach Golf Links, hay una tendencia natural a decir: espera, frena, respira profundamente.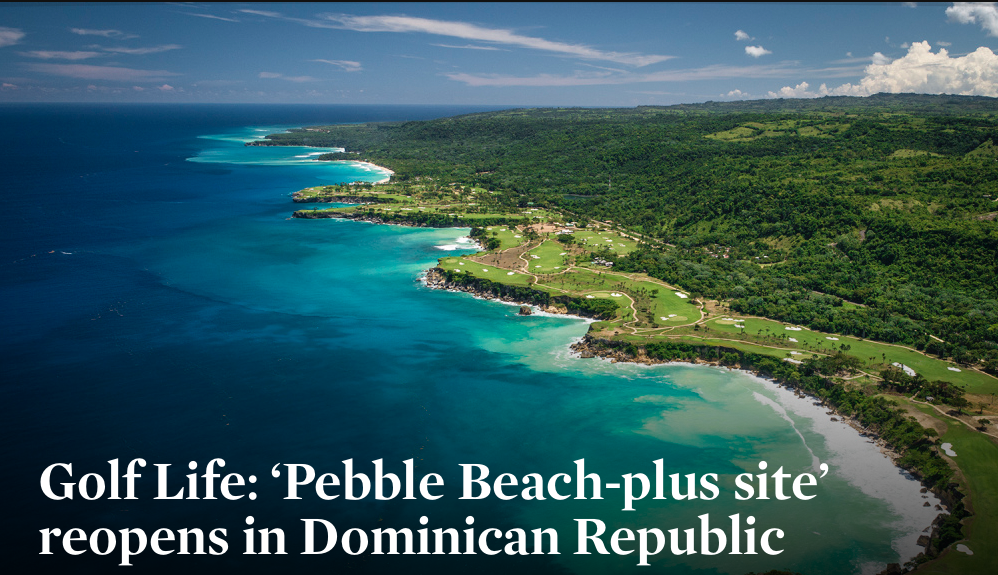 Sin embargo, esas comparaciones siguen apareciendo con respecto a Playa Grande, el campo de golf en el acantilado de la costa norte de la República Dominicana que Robert Trent Jones Sr. construyó originalmente a mediados de los años noventa.
"Estos son acantilados más altos que Pebble Beach, y hay más hoyos en el océano que Pebble Beach", dijo el arquitecto Rees Jones. "La razón por la que me he enamorado tanto de este proyecto es que es un sitio excelente, es un sitio de Pebble Beach plus".
Hace menos de tres años, Playa Grande reabrió con fuertes críticas luego de una extensa renovación del trabajo de su padre por Rees Jones. Parecía un complemento apropiado para el lujoso hotel que adorna la propiedad, Amanera. Pero el tiempo de Jones en la propiedad apenas estaba comenzando.
El hoyo No. 7 en Playa Grande ofrece unas vistas impresionantes alrededor del green.
Los hoyos No. 17 y 18 en Playa Grande juegan a lo largo del Mar Caribe. (Playa Grande)
En diciembre de 2016, Discovery Land Co. cerró la compra del hotel, el campo de golf y 2,400 acres, y llamó a Jones para darle otra oportunidad en el proyecto.
"La idea era que el campo de golf era increíble", dijo Dave Gordon, gerente de negocios de Discovery Land en el proyecto. "Estaba claro que había algunas limitaciones cuando lo renovó por primera vez, y esas eran restricciones de capital. … Le dijimos a Rees que queríamos volver y gastar lo que fuera necesario para volver a imaginar el campo y convertirlo en el campo increíble que él y su padre imaginaron ".
Cualquiera que esté familiarizado con Discovery Land sabe que la compañía tiene una clientela adinerada que espera lo mejor y no tiene reparos en pagarlo. La compañía quería crear una experiencia de golf que aprovechara al máximo el entorno de los acantilados y también abriera más vistas al océano para los terrenos residenciales. Playa Grande reabrió este mes, y Jones cree que es un campo que todos disfrutarán.
"Este es un campo de golf que cualquiera puede jugar", dijo Jones. "Lo diseñamos para que puedas solucionar los problemas y los buenos jugadores puedan coquetear con el océano. Tiene más opciones de tiro debido a la forma en que el océano se mueve hacia adentro y hacia afuera ".
Entre los cambios de diseño: todo el campo se replanteo con Pure Dynasty Paspalum, que es ideal para entornos costeros y le dio la estética de "ese verde emergente", dijo Gordon; todos los bunkers fueron rehechos con arena blanca brillante de Maryland; El quinto hoyo fue reorientado hacia las montañas; y se agregaron nuevos tees traseros en la mitad de los agujeros. También se instaló nuevo drenaje.
El drenaje es clave para el curso, dada la fuerte temporada de lluvias en la República Dominicana.
"Llueve bastante en el Norte de la República Dominicana, por lo que queremos que la gente juegue a menos de 15 minutos de una lluvia intensa", dijo Gordon. "No puedes tener suficiente drenaje en un curso como este".
Hoy, Gordon dijo que Playa Grande es "el mejor campo de golf en la cartera de Discovery". Eso no es una declaración hecha a la ligera. La cartera de Discovery incluye campo de alto nivel como Estancia en Arizona, Mountaintop en Carolina del Norte, Gozzer Ranch en Idaho, Vaquero en Texas y The Madison Club en California.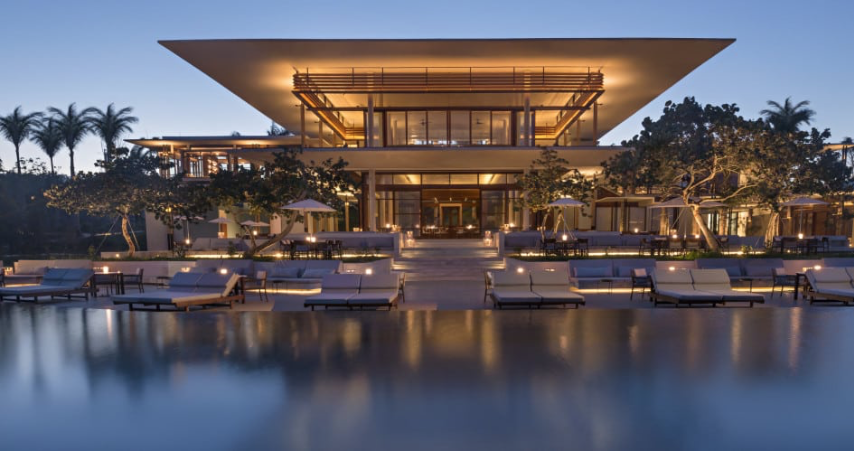 "Creo que es el más dramático (campo de golf Discovery), con la mayor parte del campo sentado en un acantilado de 80 pies con vista al Atlántico", dijo Gordon. "Diez hoyos juegan directamente en el Atlántico. Cada tee box y green tienen vistas al agua. En mi opinión, es una especie de Pebble Beach en el Caribe, con aún más drama porque también tienes una montaña detrás de ti ".
Ahí está esa comparación de Pebble Beach otra vez. Pero como con todo lo que hace, Discovery Land agrega sus propios toques distintivos.
El rango de práctica se rehizo completamente con paspalum, nuevos bunkering y Las Brasas, una zona de barbacoa de golf donde los miembros pueden congregarse.
Jones dijo que el centro de práctica le recordó el consejo que su familia solía escuchar de Herb Graffis, miembro del Salón de la Fama del Golf Mundial, quien, entre otras cosas, creó varias publicaciones de golf a principios del siglo XX y cofundó la Fundación Nacional de Golf. Graffis, dijo Jones, advirtió que si desea expandir la participación en el golf, las instalaciones de práctica deben convertirse en "parques de golf" donde puedan reunirse personas de todas las edades.
"Es un cambio de estilo de vida en las instalaciones de práctica", dijo Jones. "No es solo golpear pelotas, es interactuar con las personas, ser social. Tiene que ser una de las mejores instalaciones de práctica que hemos creado ".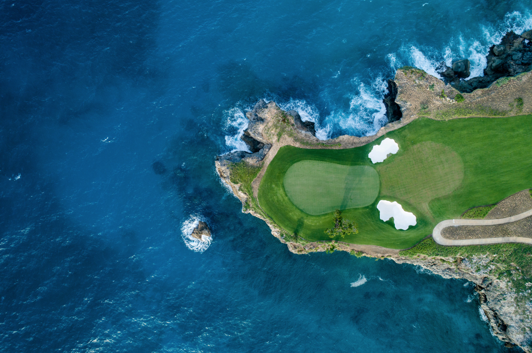 Las Brasas es una de las tres "estaciones de confort" que se están construyendo en el campo. Cualquiera que haya jugado a los cursos de Discovery Land sabe que las estaciones de confort creativas son parte de la experiencia.
Gordon dijo que el trabajo se completó recientemente en The Point, que describió como una barra de árboles en el acantilado cerca del cuarto green. La compañía también está construyendo una estación de confort en voladizo con una plataforma desplegable cerca del tee 16.
Gordon dijo que solo habrá 60 parcelas para propiedades en el campo de golf que estan actualmente en venta.
Para mas información, favor contactarnos al cherrera@provaltur.com