A look at the world of luxury real estate in 2017 reveals a shifting, bifurcated marketplace following a period of sustained growth. Synthesizing data from over 100 luxury housing markets worldwide, this year's Luxury Defined report uncovers the reasons behind the generally slowing sales, upward-moving prices, and shifting sentiment of high- and ultra-high-net-worth individuals (HNWIs and UHNWIs) in both the challenged and best performing prime property markets.
What price defines a luxury home?
Worldwide, the average starting price of a luxury home is $2.1 million, down slightly from last year's $2.2 million. The benchmark differs significantly by region and market type—from under $1 million in Costa Rica to above
$10 million in Monaco. When segmenting markets by categories, not surprisingly, global economic hubs, such as London and Hong Kong, have the highest entry price point for a luxury home worldwide, averaging $4.4 million.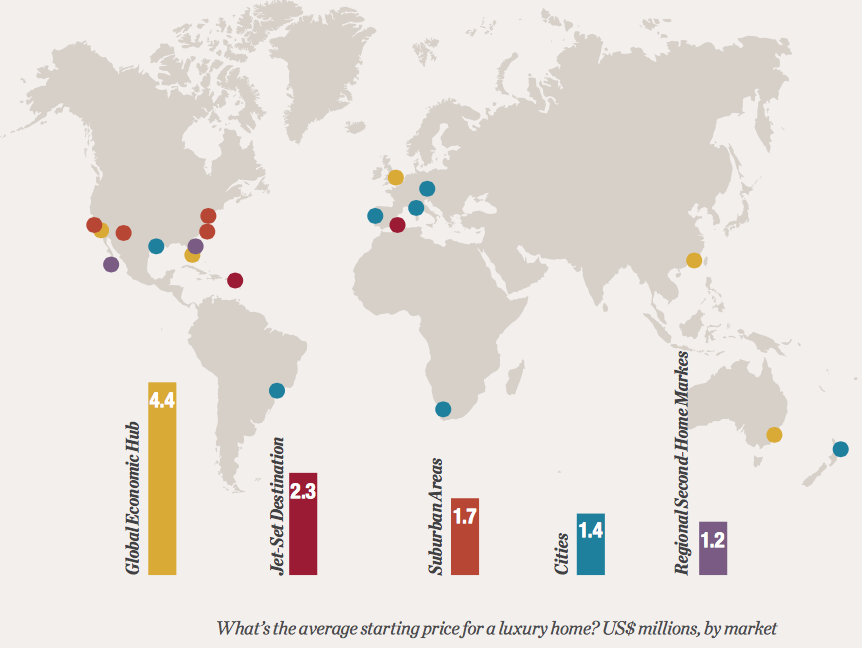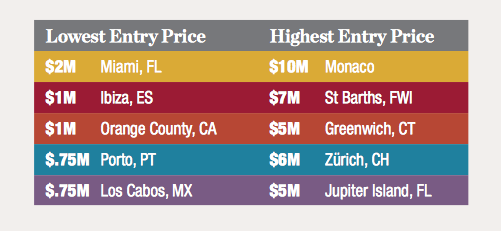 How are million-dollar-plus home sales faring worldwide?
After years of explosive post-global recession growth, prime property
market growth slowed in 2016. Million- dollar-plus residential property sales volume growth dropped to one percent worldwide. Twenty-four property markets reported significantly fewer luxury homes sold in 2016 than the year prior; 19 markets reported notable increases, and the remainder reported flat sales.
The world's top residential sales reach record highs in 2016
Trophy home sales worldwide saw a dramatic uptick in 2016. For the first time ever, the world's top 10 reported residential property sales were all priced above $100 million, and sold for more than $1.3 billion in aggregate, with an average sales price of $132 million.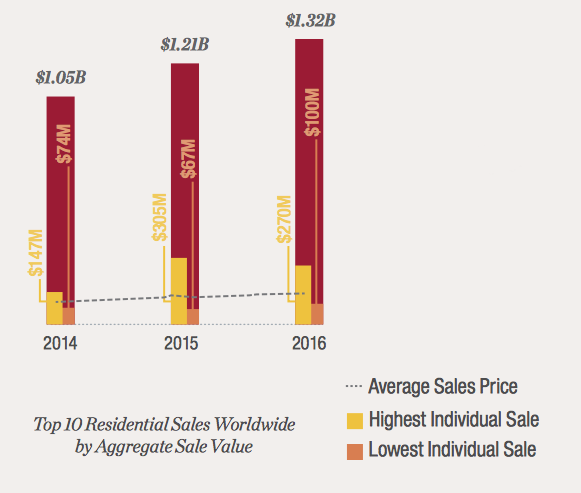 The world's top-ranking luxury property markets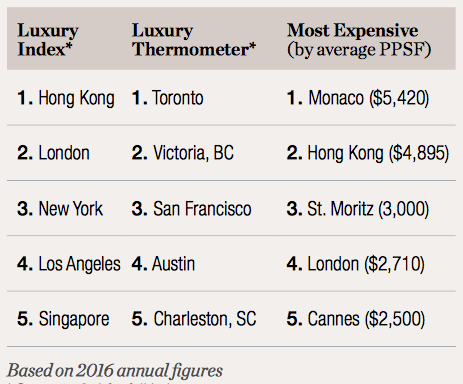 How long does it take to sell a luxury home?
Million-dollar-plus homes took longer to sell in 2016 than in 2015, indicating increased inventory in some markets, as well as pricing challenges and the specter of uncertainty in others. Across the globe, luxury properties took on average 220 days to sell in 2016 versus 195 days in 2015, a 13 percent increase. Properties in second-home resort markets took longer to sell than those in cities.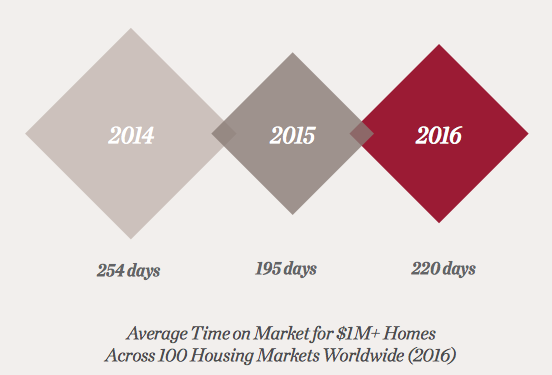 How have luxury house prices shifted worldwide?
Globally, prices of million-dollar-plus homes increased by approximately two percent over 2015. Over half of our 100 luxury markets reported an increase in home sale prices, though the percent increases varied significantly across markets, with the largest increase reported in Toronto, where prices rose by 20 percent.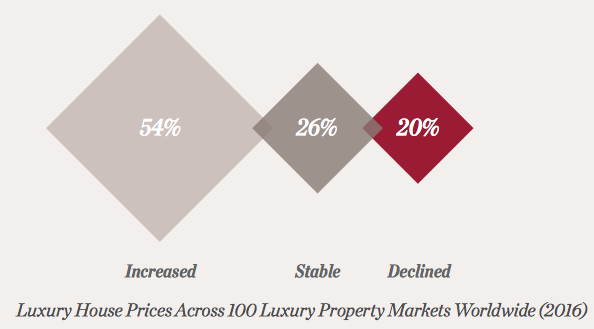 How large is the world of ultra-prime property?
While luxury properties priced at $20 million and above continue to capture headlines,
the number of ultra-luxury homes is quite small. In fact, there are only around 1,500 residences publicly available for sale over $20 million worldwide and 34 above $100 million. Many of these homes are clustered in select geographies, with Hong Kong home to the most listings priced at $20 million and above.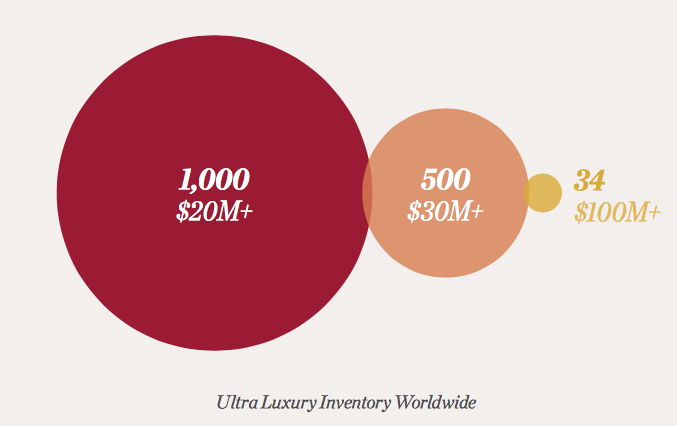 Overseas buyers of luxury properties remain strong in second-home resort markets
Although capital inflows from foreign buyers in top luxury real estate markets remained strong, the buyer demographic mix shifted. Chinese buyers remained strong overseas despite new restrictions on capital outflows, and further penetrated luxury markets in Montreal, new enclaves in Toronto, and other areas new to this buyer group such as North Carolina and Sardinia. Russian buyers declined outside their home country, though some U.S. markets reported an uptick in Russian buyers in early 2017. Middle Eastern buyers continued to remain strong across Paris and the Côte d'Azur.