3 years ago, in the fall of 2013, we wrote for the District & Co Magazine, an article entitled The Luxury Real Estate, Re-definition of Luxury Real Estate Market. Then we recommended moving toward a new definition where "A luxury real estate is one that has a value 2 or 3 times higher than the average value of all the houses in a particular geographic market"
At that time, we found that the average value of the properties for sale in Casa de Campo was 1.8mm so luxury properties began in 5.4mm. I found it interesting to make a comparison between Casa de Campo and Punta Cana and these are the results.
The value of villas in public sale (only villas, apartments or no land) rose to 2.3MM at Casa de Campo while the average value at Punta Cana is 2.4mm, very similar.
Compared to 2013, this increase could be explained by the movements of inventory during the last three years where most of the properties sold were sold for less than 1MM. There have been higher sales over 10MM and 5MM, but only just a few.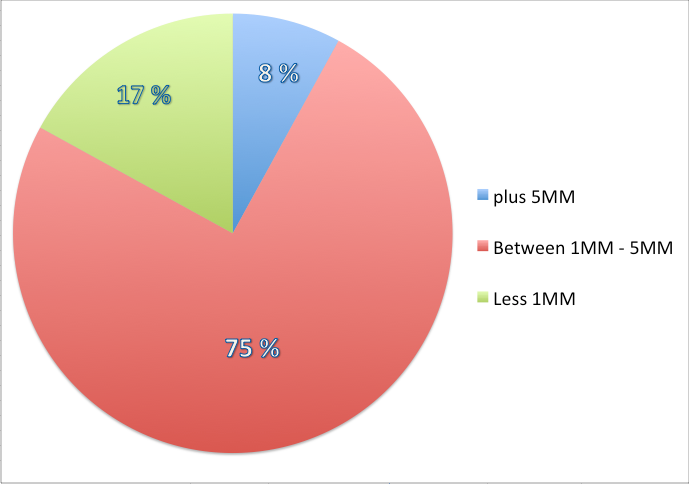 The properties at Casa de Campo of less than 1MM represent 30.33% of for sale inventory, with an average value of USD 756,811 with average size of 408m2 and a value x square meter of $ 1,857 for villas, mostly with 4 rooms. At Punta Cana, properties of less than 1MM only represent 4% of the inventory with an average value of USD 825,000 with an average size of 360m2 and a value x square meter of USD 2,059 for 4 bedrooms villas also.
In the most exclusive and luxurious properties segment for more than 5MM dollars, the numbers between the two areas are very similar. At Casa de Campo it represents 8.2% of the market while at Punta Cana only 8%. The average value of these villas is USD10.88MM in Casa de Campo, with the most valuable on sale for USD 20MM while at Punta Cana the average value is only $ 6.2mm. The average size of these villas at Casa de Campo is 1,852m2 and value x square meter is 5,876 USD for villas of 7.9 rooms. At Punta Cana, the price x m2 is lower, USD 5,136m2 and the average size is 1300m2 with 7.5 rooms.
Apparently in this market segment, the offer is very similar but also limited. This is the segment of CHRISTIE'S like properties.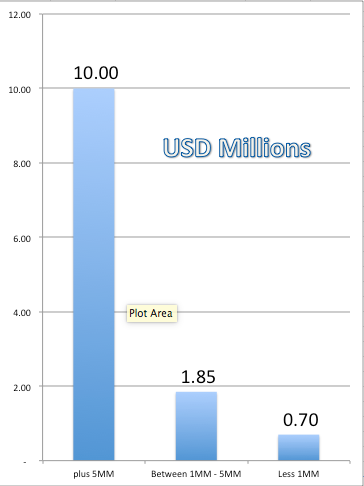 Most of the villas in this segment are selling between 1MM and less than 5MM. In the case of Casa de Campo it represents 61.48% of the inventory and in the case of Punta Cana 88% of the stock to sell. In this segment variables are very similar. The average villa at CdC is worth USD 2.1MM, is about 807m2, has 5 bedrooms and the value x m2 is USD 2,649. The average PC villa is worth 1.95mm, is about 700m2 has 5 bedrooms and the price per m2 is $ 2785.00, much like the CdC.
We encourage you to visit all the properties we have for sale HERE
In short, in the segment of less than 1MM villas, prices per m2 are like 1,857xm2 at PC and 2,059m2 for CdC. In the segment of more than 5MM villas, the price per m2 is between 5,136xm2 and 5,876xm2 been higher at CDC and in the middle segment, which has the vast majority of villas for sale, the value is between 2,649 x m2 XM2 and UDS 2,785xm2, very similar.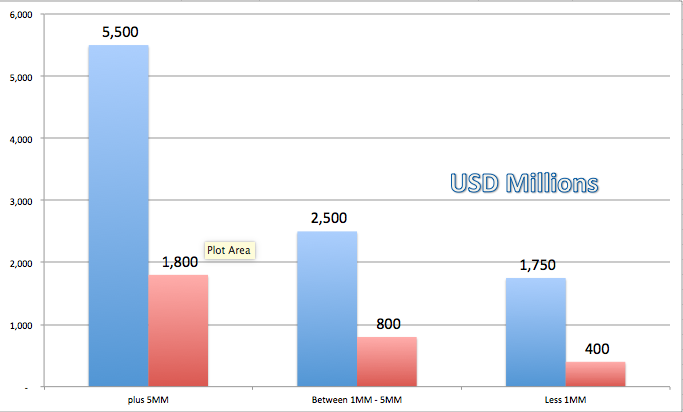 In both cases it is worth mentioning that there is always room for negotiation at the time of purchase. In CdC we feel there is more flexibility because they have a larger inventory to sell than in PC.
Based on the results, adjusting the variables to include the negotiation factor of both regions and to facilitate retain certain key variables for both markets more easily we could conclude that on average: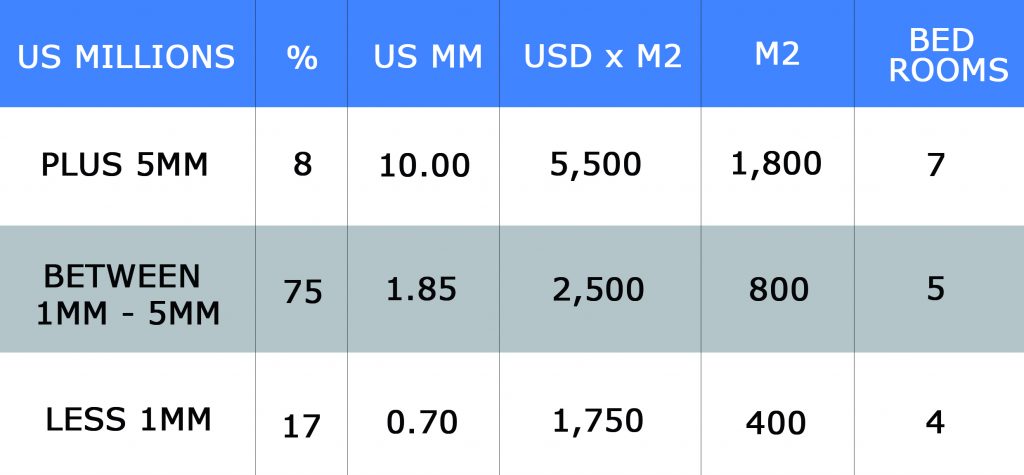 It would be interesting to perform this same study in markets like Samana, markets are in North Coast and one for luxury real estate at Santo Domingo.
The next serious analysis will be comparing the results of the luxury real estate market of the Dominican Republic with other markets, starting with some Caribbean islands and bigger destinations like Florida.
I am confident that the Dominican Republic offers the best value in the area for a product of the highest quality surrounded by luxurious amenities, although as the President of the Institute of Luxury, Milton Pedraza, once said, luxury is not about the columns, walls or the roof of a property, but about services and experiences that live and receive in the property …
We encourage you to visit all the properties we have for sale HERE
Fill in the form and we will send you the exclusive Luxury Defined: An insight into the Luxury Residencial Property Market 2016