Vista Lagos, Casa de Campo Resort and Villas, La Romana, Dominican Republic
New
$546,340.00 Start at - Land / Lot
Vista Lagos is a new area for a new lifestyle and something new and fresh.
The Vista Lagos park will have playgrounds and gyms for children, exercise areas and sports grounds. People can go jogging or cycling, bring their dogs, there will be outdoor events and even small concerts. With trails and a meadow, it will be very clean and remaining true to the natural environment.
It is changing the landscape of the entire northeast quadrant, and is a springboard for development in the rest of the area.
The concept integrates the natural beauty of the area, taking special care to preserve endemic species of plants and wildlife, while creating a space for the enjoyment of the owners, residents and guests of Casa de Campo. In fact, Costasur works in collaboration with experts from the National Botanical Garden of Santo Domingo and the Ornithological Society of Hispaniola to ensure that important species of endemic plants and birds are preserved, such as the giant cactus.
On the other hand, the main characteristic of the Recreational Natural Park will be its trails designed to promote connectivity between Altos de Chavón, Los Altos, Los Flamboyanes and Vista Lago.
Future phases will also allow the development of sports and recreational facilities, playgrounds, meadows, as well as an area for holding small outdoor events.
Now available lots from 11-23… ( see map below) 
Ask me about the LIMITED OFFER for the first 5 buyers of Phase 2: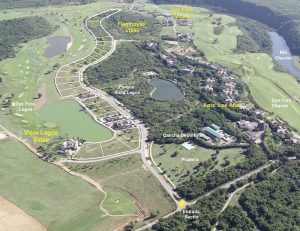 1-1o were sold out