Batey 10, Casa de Campo 22000, Dominican Republic
For Sale, Just Listed $3,850,000.00 - Single Family Home, Villas / Townhomes
Located in the exclusive Batey area and designed by renown architect Francisco Feugaz, this new 1000 m2 (3280.84 feet2) beauty follows a similar structure as its neighbors, but with a modern twist that places it on the list of the Casa de Campo's 5 top villas.
This newly remodeled 6 bedroom villa is one of the most contemporary tropical designs and décor in Casa de Campo. Spectacular ocean and golf views this villa has a 60 foot pool with built-in umbrellas and a Jacuzzi that seats 12. The villa has every modern convenience you will need. A complete surround sound system for music and many smart home features. The night time lighting is so inviting your neighbors may come over without invitation. A build in pizza oven is just one unique feature of this villa. 2 professional kitchens allow the first class chef and waiter to provide you an elegant experience.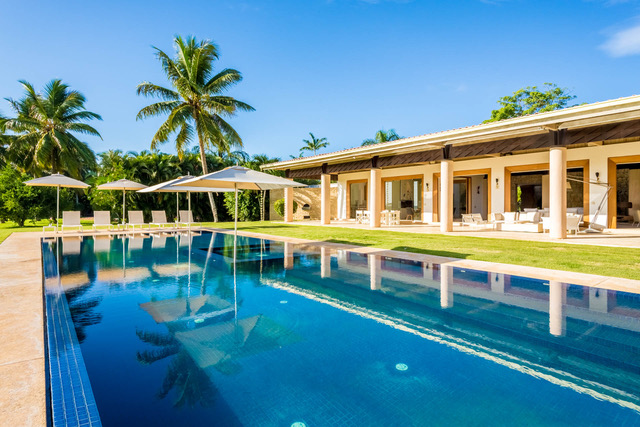 Very sleek, modern lines and colors, water tanks, minimal but precise landscaping, northeast terrace–for cool breezes.
With a lot of around 4,000 m2 (13,123.36 feet2), this villa enjoys extensive Golf views and partial sea view.
6 bedrooms (master BR with private lounge), AC dining room, modern studio, top of the line kitchen, plus a second staff kitchen, impeccable decor and luminaries throughout. This villa is a sure winner both for enjoyment and for rentals.
Price List: US$3,850,000.00