Compostela del Camino - Pedro Brand - Santo Domingo
For Sale
$2,695,000.00 - Estate, Single Family Home
A Surprising Private Retreat near Santo Domingo !
– 10,932 sq ft home on a 12.5-acre parcel
– Just 15 minutes from Santo Domingo
– Breathtaking Mountain views throughout
Design by renowned Colombian architect Juan Carlos Tafur, this staggering, private luxury complex is idyllically located in the mountainous area of Piedra Gorda at Pedro Brand a suburb of Santo Domingo, going north by main Duarte highway. This oasis afford ultimate tranquility and luxury, yet offers easy access to nearby Santo Domingo. Built to maximize on natural light, the fabulous interior is tastefully appointed with the finest materials including imported marble flooring, hardwood doors and marble baths. The incredible landscape can be seen from every angle of the residence. Further highlights include five bedrooms with spa-like baths, a gourmet kitchen, a gym, a wine cellar, heavenly tropical grounds, a large patio area overlooking the infinity-edge pool and Jacuzzi, a barbecue are, steam room, and separate two-level manager's residence. Just a short stroll away is a large artificial lake, populated with turtles, ducks, and tilapia. This is a stylish a property as one could hope to find.
Under contract !!! 
ABOUT THE NEIGHBORHOOD 
The luxurious property is located in the rural mountainous area of suburban Piedra Gorda, Municipality of Pedro Brand, Santo Domingo Oeste, Dominican Republic.
36 km from the city of Santo Domingo, capital of the Dominican Republic. It takes 15 minutes from Santo Domingo and one hour and 15 minutes from the city of Santiago de los caballeros. This access road is the main highway, which links the two cities. A line of the metro currently constructs from km 18 currently with a project to build a passenger train between Santiago and Santo parallel to the Duarte highway Thursday.
Having as main entrance, Old Highway Duarte and Duarte Highway, via direct access to the property 800 meters of paved road and in very good condition. The few built homes in the area are designed for summer houses. Temperature Pleasant climate. Day between 27 and 29 degrees and at night the temperature can drop to 18 degrees Celsius. Services Water, telephone, cable TV, internet and electricity.
Compostela del Camino:  AMAZING PANORAMIC 360 VIEW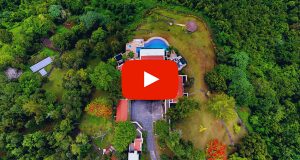 PROPERTY DESCRIPTION 
Its luxurious architectural design was done by the famous Colombian architect Juan Carlos Tafur.
Surface area of 51,573 square meters land ( 21,122 fenced with chain link fence and wall)
The finishing luxury materials include imported marble flooring and porcelain, old hardwood doors & jambs, mantel marble bathrooms, Window imported fine aluminum, electrical safety Shutters on all windows and sliding doors, modular kitchen wood imported + granite top.
1. Entrance: It has a built gate tola, activated by remote control, surveillance security cameras, intercom. The front of the property is approx. 200 linear meters of walls of blocks; the rest of the property is protected by electrified chain link fence with four lines.
2. Artificial lake: With an area of 275 m2 surrounded by a stone road, maintains its level through a pipeline system to store rainwater. Within the lake there are turtles, ducks, fish (tilapia).
3. Roads: The main road through a distance of 200 yards from the entrance to the esplanade where the marquee housing, built of stones and bordered by water channels built in the same material is. Additionally, around the perimeter fence on concrete road approx. 1 km, within the garden are different concrete ways to tour and enjoy all the fenced area.
3. The house House: It was built 10 years ago, takes the light and you can see the surrounding landscape from every angle of the house. Designed in levels following the layout of the land and constructed of concrete block with double wall. The structural part consists of footings of walls, slabs, beams, lintels, columns and concrete ceilings covered in tiles with a construction area of 1,018 m2, covered entirely in polished coral stone. The distribution of housing is as follows: Room dining room 4 rooms Master bedroom with hall bath with walk + + Jacuzzi + walk in closet lined with cedar and juniper + terrace Bedroom 2 with walk in closet + bathroom + terrace Bedroom 3 with walk in closet + bathroom + terrace Room 4 with closet + bathroom + terrace Studio with hardwood floors and wall to wall library in precious wood, terrace Games room with private bathroom Roof to the pool terrace Luxury Kitchen Cava pantry Area Laundry and ironing full Fitness Bathroom 4. Visits Service room with bathroom Luggage Room Rooms implements vehicles Fourth tools and gardening equipment Parking for 3 vehicles roofing and 7 more with no roof.
5. Area of Pool terrace swimming pool jacuzzi Full bath pool Steam room BBQ Area fourth deposit Pump room Fourth of investors and deposit Fourth of electric generators
6. Housing manager: The two-level building with tile roof and covered with coral stone, with a total construction area of 100 m2. With the following distribution: Room Kitchen and dining 3 Bedrooms 2 bathrooms 4 Kennels
7. Electrical Services 2 floors of 40Kw 6 investors 3.4 kilos + 48 Batteries Fuel tank (diesel) 800 gallons Fuel tank (diesel) 200 gallons
8. Water Services Four auxiliary water pumps Tank for water storage 150mts3 Osmosis System Solar panels for heating water system pool and jacuzzi Vacuum solar water heating for cooking and showers
9. 8,000 sqm garden Fruit trees
Additional Details